January 8, 2018 - March 19, 2018




5:30 pm - 6:45 pm
with Tiina Kivinen
Date and Time: Mondays, January 8 – March 19, 5:30pm – 6:45pm (no class Feb 19 Family Day) 

Price: $108+ HST, Register to save $! Or use your Studio 10 Class Series, Unlimited, or Drop In.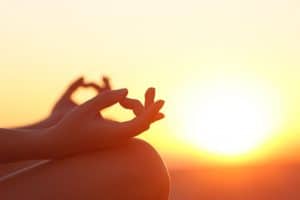 This series is intended to take you deeper into the practices of breathwork and meditation. Yoga means 'union' and refers to the essential unity of body/ mind/ spirit, and this experience of union is available to all of us, in every moment. The practices of Pranayama (breathwork) and Meditation enhance our ability to be present, to calm the nervous system, sleep better, breathe more fully, and ultimately have the potential to optimize our health on all levels (nervous system, immune boosting, calming anxiety/ stress, mental clarity and physical health). This series of open to all (as long as you can climb stairs to get to the studio). Gentle movements will be guided to help prepare the body for deeper meditation and breathing practices, and restorative style postures will assist in the deepening. We will not be sitting still for the full hour, and being comfortable in your position is always a priority. Space is limited, register now for a prorated discount for all 10 classes or use your Studio 10 Class Series,  or Unlimited class pass. Great for beginner to more experienced practitioners, as well as Yoga teachers looking to deepen your practice and teaching of breathwork and meditation. *Registered Yoga Teachers receive CE credits
We're sorry, but all ticket sales have ended.