April 4, 2017 - June 20, 2017




7:00 pm - 8:15 am
with Fraser McDonald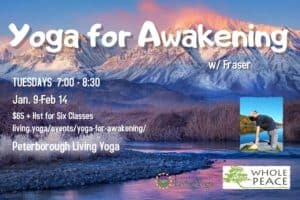 Date and Time: Tuesdays, 7 – 8:30pm ~ 12 weeks, April 4 – June 20

Price: $132 + HST for all 12 weeks, or use your Studio 10 Class Series, Unlimited, or Drop In.

When we wake up to the state of Yoga, we discover that our being is naturally peaceful and joyous. Through asanas, pranayama, and inner inquiry we will enhance this sense of inner completeness and clarity, while also energizing, exploring, and relaxing our bodies. In this inspiring series, we will:
Create space in the body and discover the space of being
Wake, channel, and expand our pranic force
Make conscious connection with our core
Root into the effortlessness of being.
Since true awakening is to discover and deepen our experience of our who we are beyond and before our thoughts, there is no prerequisite. All abilities are welcome. We are simply coming together to find the most effortless and joyful way to be ourselves and live our truth.