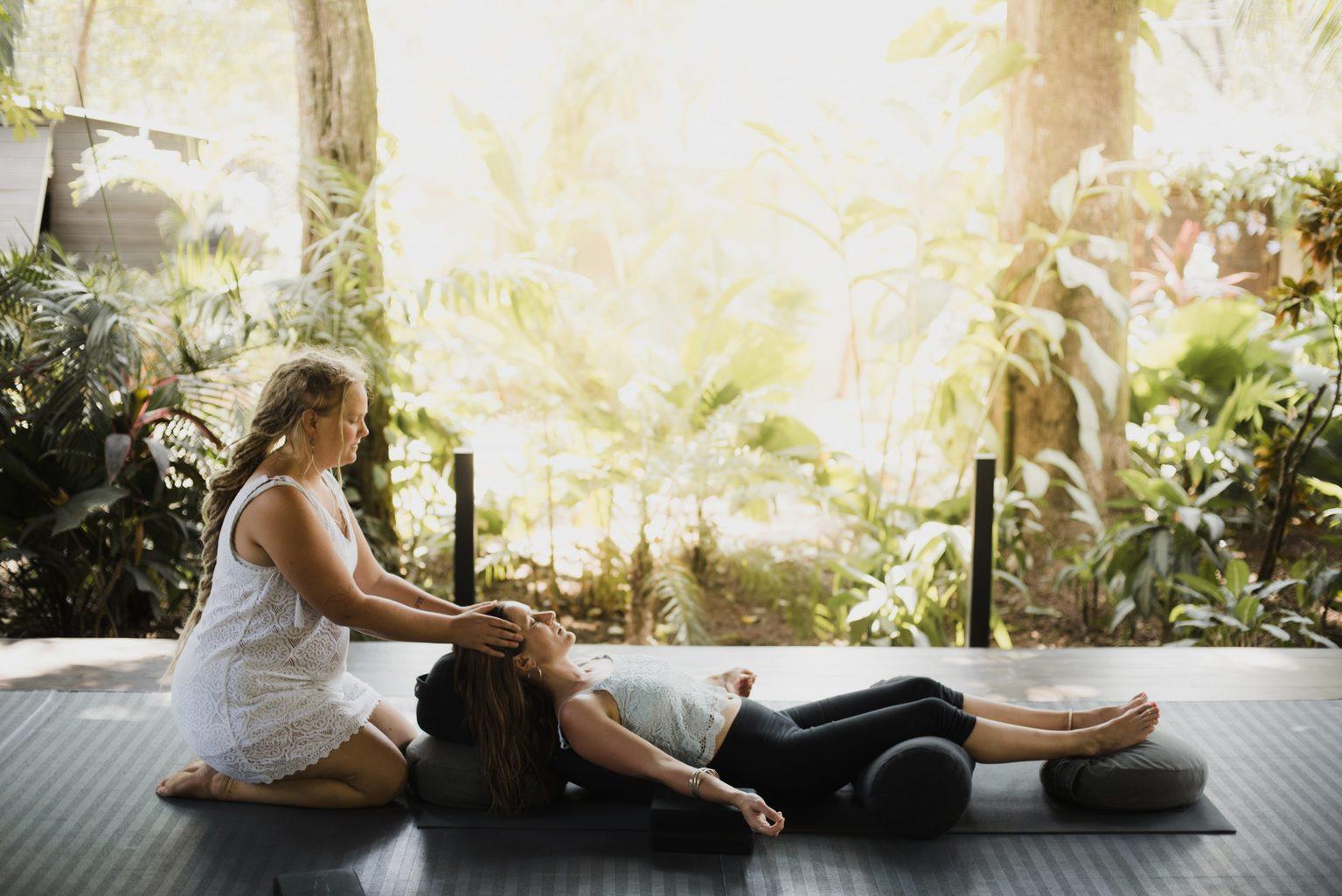 ---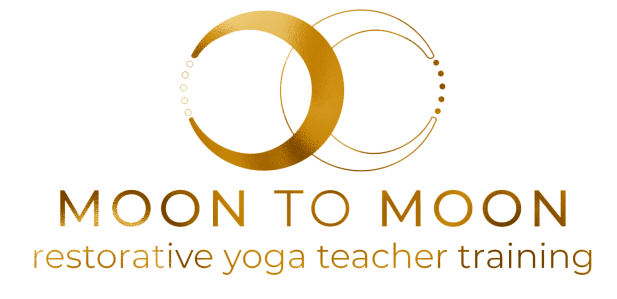 ---
In this restorative yoga teacher training you will be guided on a journey through the rhythms of the moon. Join us for a Restorative Yoga immersion and evolution to becoming a guide of these precious teachings.
You will learn everything you need to know in order to skillfully lead restorative yoga classes! You will become confident at guiding this deeply restful practice that creates deep rejuvenating states of meditation and relaxation.
---
Check out what previous Moon to Moon grads are saying about the training:
Restorative Yoga Teacher Training
Restorative yoga is slow and contemplative, using the support of props we exert as little effort as possible and move into a place of deep rest. You can think of restorative yoga as effortless in nature and as "yoga for the health of the nervous system"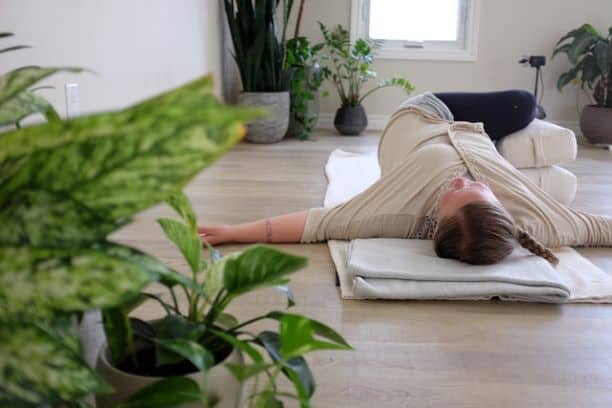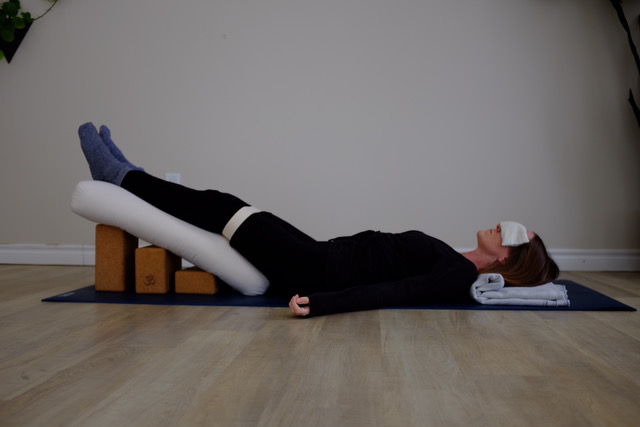 ---
In this training you will be guided towards deepening your own practice and a philosophy of ongoing self inquiry to bring out your unique gifts in becoming the evolution of your own yoga, even if you choose not to teach yoga classes.
You will learn how to guide methods for developing awareness; facilitating deep states of relaxation and pure abiding consciousness for your students.
RITUALS AND PRACTICES TO RE-ENCHANT YOU WITH THE MAGIC OF THE MOON
Rituals are one of the most powerful tools to help us mark important thersholds in our lives, to heal and integrate what's happening in our external lives. Learn to use sacred tools: nature, the elements, ritual & ayurvedic practices to go with the lunar cycle.
Embracing the rhythms of nature has been a foundation of human wellbeing for thousands of generations. The wisdom of our ancestors and nature can help you find balance, harmony, and energy renewal amidst the hectic bustle of everyday pressures and deadlines. Learn how to integrate the intelligence of the natural world in all of its ebbs and flows of energy within the comfortable sanctuary of your own home.
With many years of experience facilitating meaningful yoga experiences, Tiina and Ally will help you connect with your unique gifts as a yoga teacher.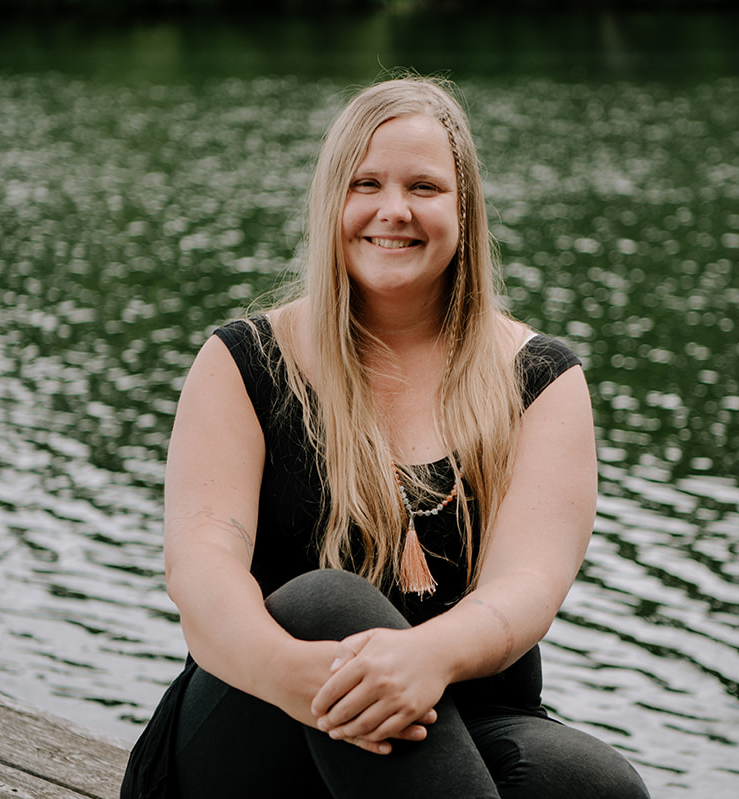 Tiina is a yoga educator and teacher trainer who is inspired by the incredible gifts that the yoga tradition brings to everyday life. With reverence for the teachings and respect for culture, Tiina advocates for the possibilities of healing and transformation that are available to all. She brings a depth of wisdom, compassion and creativity to teaching, and is particularly excited by empowerment-based approaches to mentoring and training teachers. She is passionate about the power of conscious relaxation and brings this passion to her work in the yoga field and also as a Counselling Hypnotherapist.
Tiina is the founder and co-director of the School for Living Yoga with Ally Boothroyd, who together guide 200 hr Yoga Teacher Training, Moon To Moon Restorative Yoga Teacher Training, Transformational Sleep Yoga Nidra Teacher Training among other classes, workshops and retreats. Tiina has thousands of hours of training in diverse Yoga approaches, including Kripalu Yoga, Let Your Yoga Dance, Meditation and Pranayama, Ayurveda, Prenatal Yoga, Yoga Nidra and more, and has served as faculty for trainings at Kripalu Yoga Centre and Nosara Yoga Institute.
Tiina is currently pursuing a Masters in Counselling Psychology, and can often be found roaming the lands of her off-grid farm community in Ontario with her dogs. Tiina has been teaching Yoga since 2002. Together, Ally & Tiina powerfully embody the path of the teacher to serve with love. Their styles of teaching compliment each other in the most beautiful and powerful way. Together, they truly facilitate an environment of transformation and deep healing.
Ally Boothroyd
Co-Director
Ally Boothroyd is a yoga educator and meditation teacher with a passion for Yoga Nidra and the healing power of conscious rest. Over the past decade, she has helped thousands of people to calm, balance and restore their nervous systems through her yoga teacher trainings, retreats, workshops and recordings. Ally is dedicated to inspiring depth, creativity, healing and wellbeing by sharing the most potent tools from a variety of yogic traditions. She brings an openhearted, inclusive view to her teachings, which are a rich blend of Kripalu Yoga along with Classical Hatha Tantra, Yoga Psychology, Amrita Living Yoga and a variety of styles of Yoga Nidra including Integrative Restoration.
Ally's path has been one of healing from anxiety, depression, panic attacks and insomnia through the ancient science of yoga, particularly Yoga Nidra & Restorative Yoga. She brings in the wisdom from ancient traditions and the most recent scientific studies to her trainings. There is nothing she would rather do than share these precious tools with the world through empowering others to skillfully bring these effortless & powerful practices to their students, clients & loved ones. Ally has been a faculty member of a variety of teacher trainings over the years and is the assistant director to the School of Living Yoga (200 & 300 hour Trainings) and the creator of Transformational Sleep Yoga Nidra Teacher Training.
Have questions or concerns? Get in touch!
Q- When does the training start?

Our next Moon To Moon Restorative Training will open on the New Moon of November 23rd, 2022 and from there it will be open for enrollment ongoing for several months. We will be capping how many students can enroll per month, but you can apply for November or any month after that at this time!
Q -What are the Live Zoom Call Dates/Times?
The Live Calls will be ongoing once our Training opens up in November. There will be Live Calls once a Week on Thursdays at 1pm EST (Eastern Standard Time)
Q- What can I expect on the Live Calls?
The Live Calls will include a small group of trainees & your mentors Ally, Tiina, Kristyn & Elizabeth. One of the mentors will lead a group centring and meditation with a focus on the lunar cycle. There will be a short group discussion, a personal check in with where you are in the training and questions with the mentors. From there, you will be partnered into a breakout room to practice any homework you have (mini practice teaches) or if you don't have any homework to practice that week then your partner will have the opportunity to guide you in their homework assignment.
Q - What if I can't make the Live Calls?
That's OK! The live calls are great for connection if it's possible but it's not necessary to complete the training. Many of our trainees find a partner or study group inside of the training that they can complete their practice teaches/homework on their partner outside of the live call session times. We also have a Private Facebook Community and other ways to ask questions to the mentors if needed throughout the training.
Q - How long are the Live Calls?
The Zoom calls are roughly 60-90mins.
Q - Can I move through the course at my own pace? How much time should I expect to spend on it each week?
This course is designed to be completed in 4 lunar cycles, and all of the content can be explored at your own pace throughout the four month period. Some trainees take an extra month/moon cycle to work through all of the assignments and the training is set up to support that extra time if it's needed (the whole course & Facebook community is lifetime access and the live calls are ongoing).
Q - Is there a practice teaching component?
Yes! We believe so much in the power of practice teaching to build the skills to hold space, the confidence to guide others and the embodied wisdom that comes with lots of practicum. There are mini practice teach assignments within each module that can be completed with partners via zoom (either on the weekly live calls or on your own time) throughout the training to build the skills and confidence for your final 60 minute practice teach. When you reach the final modules of the course we have an empowering and inspiring practice teach component where you will experience your peers 60 minute practice teaches as well, this is a favourite part of the training for so many.
Q - How much time will I spend on the training per week?
This will vary from person to person depending on your own personal life and schedule. Our graduates report spending anywhere from about 1 - 4 hours per week on the course work (including live calls/homework & Sadhanas (yoga practices) with Tiina and Ally and staff which are anywhere from 30-90 minutes each). This time spent on the training will vary from person to person and week to week as some people move through the training at a quicker pace than others. Also, this course is very flexible so that if something comes up in your personal life and you have to take a week off of the course, that's ok! You can take time off and jump right back in and continue on your path.
Q- Do I get a certificate?
Once you have completed all of the course requirements, you will receive a certificate that is eligible for 70 Hours Yoga Alliance Continuing Education credits.
Q - How long do I have access to the training?
You will have lifetime access to the training which will grow with content as more resources are created over time. You will also have access to the online classroom and Facebook community for life as well.
Q- What if I'm in a different time zone?
Sometimes we have students apply from different regions of the world: the UK, Europe, SE Asia, Australia, etc. and the Live call times do not fit into their schedule or are in the middle of the night. This is not a problem as the course is build to be "go-at-your-own-pace" with accountability measures in place to keep you moving forward with the modules week to week. If you cannot make the live calls, you will have the opportunity to practice with a partner in real time on zoom at a time that fits your combined schedules.

Q- Do you have a scholarship program?
Yes, we do offer a partial scholarship to a portion of our trainees, it's important to us that the training is accessible to anyone who feels inspired to serve others through the power of restorative yoga and you can inquire about our scholarship program in your application process! If you are interested in our BIPOC scholarships, LGBTQ2S+ scholarships, student or senior scholarships, scholarships for those who are working with or serving underserved populations, or if you live in a country where the exchange rate is unfavourable. Please let us know in your application process so that we can let you know what options are available.

Q- How do I apply?
There are two options, you can book an application interview with Ally or Tiina or you can fill out an online application below. If you do not have any questions about the training, then online application is the quickest and easiest way. You can find the links for the online interview here.

Please contact us with any additional questions, and if you would like to talk or even meet in person if you are in our local areas near Peterborough and the Kawarthas, we would be happy to do so.