Sacred Sound Journey this weekend!
with Rebecca White Raven and Kevin Guerette, special guests from Ottawa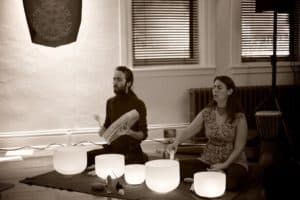 Date and Time: Sunday, October 15, 1 – 2:30pm
Price: $25 + hst
A beautiful and meditative sound experience is coming to the Peterborough community again.  Rebecca and Kevin will provide a sacred soundscape using crystal singing bowls and many other sweet sound healing instruments to help guide us into alignment and allow our inner light to shine.
The evening will start with introductions and group toning of the sacred sound OM. This will help everyone become fully present and centered. We will then relax and release into an intuitive and Spirit directed soundscape of vocals, crystal and Tibetan singing bowls, frame drums, shakers and rattles, cedar flute, tingshaws, steel tongue drum, gongs and more. Experience deep relaxation and dream with the sweet sounds, adding your own voice if you feel called to. We will close with magical french chimes, like floating through a forest of fairies. It will be so lovely and I hope you join us!
More about Rebecca:
rebeccawhiteraven.wordpress.com