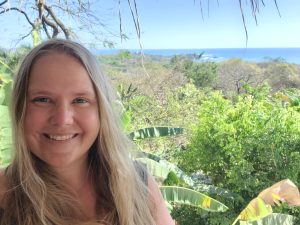 Hi, I'm Tiina Kivinen, and I'm a Registered Psychotherapist (Qualifying). I work with people seeking help for feelings of overwhelm or emotional pain. Some are managing emotions like anxiety, stress, and depression, while others are healing from past trauma. But there's hope. The path toward understanding and emotional well-being is something we can walk together. I focus on helping those who are navigating various life transitions, healing emotional pain, or simply want to understand themselves better. In partnering with me, we'll open doors to new possibilities of healing and growth. In our sessions, we'll work together to make your life tangibly better.
With my over 20 years of experience guiding people to connect with themselves and others, we'll use the most effective tools to help you heal and grow emotionally. We'll integrate insights from my background in meditation, yoga, and guided relaxation to help you tap into deeper states of awareness for a well-rounded approach to mental-emotional wellness.
My role is to offer a kind and respectful space where together, we can identify the healing tools that resonate with you and the best strategies to improve your life. Reaching out is often the first step in creating a better future for oneself. I invite you to join me on this journey, and together, we'll navigate the path toward your best self.
Call or Email me now for a free 15 minute consultation – (343) 700-2919
Psychotherapy or Psychological Services covered by most extended health insurance, or Sliding Scale options available
Client Concerns I Treat
Abandonment
Abuse / Abuse Survivor Issues
Addictions and Compulsions
Adjusting to Change / Life Transitions
Anxiety
Attachment Issues
Bipolar
Body Image
Borderline
Career Issues
Chronic Illness / Disability
Codependency / Dependency
Communication Problems
Control Issues
Creative Blocks
Depression
Dissociation
Divorce / Divorce Adjustment
Domestic Violence
Eating and Food Issues
Emotional Overwhelm
Emptiness
Family Problems
Fear
Fertility Issues
First Responders
Individuation
Perinatal and parenting
Self-Actualization
Self-Love
Women's Issues
Types of Therapy
Breathwork
Cognitive Behavioral Therapy (CBT)
Existential Psychotherapy
Hypnotherapy
Narrative Therapy
Person-Centered Therapy (Rogerian Therapy)
Solution-Focused Brief Therapy (SFBT)
Somatic Psychotherapy
Spiritual Counselling
Transpersonal Psychotherapy
Yoga Therapy
Upcoming Group Therapy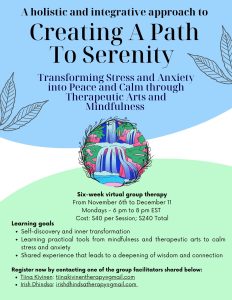 Transforming Stress and Anxiety into Peace and Calm through Therapeutic Arts and Mindfulness! A six-week virtual group (Nov 6 to Dec 11) supporting individuals struggling with anxiety and stress by providing tangible tools and resources to grow a sense of inner peace. The group aims to support clients in developing self discovery and have a shared experience that leads to a deepening of wisdom and connection. The total cost is $240 for six, two hour sessions. Therapeutic modalities applied, include integrative, therapeutic/expressive arts, mindfulness-based, strengths-based, existential, person-centered, and holistic.
To register, contact me at [email protected]
Faciltated by Tiina Kivinen, Registered Psychotherpist (Qualifying), Irish Dhindsa Registered Psychotherpist (Qualifying), and Heather Boorsma Registered Psychotherpist (Qualifying)
Facilitators
Tiina Kivinen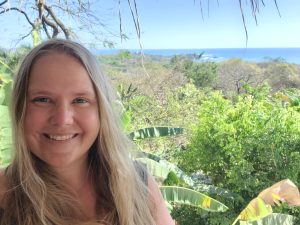 – see biography above
Irish Dhindsa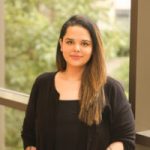 As you move along your journey of life, you may encounter two things: challenges in life and the desire for personal growth. I am here to work with you through both of these, side by side, to support the development of authentic living, as you need. Our work together is mindfully and intentionally focused on supporting you in becoming the person you want to be and exuding the ripples of that into your life. I approach therapy with an integrative and holistic belief and passionately value an emphasis on the whole-person, mind, body, and soul healing.
Our work together will integrate a deep understanding of your past, present, and future goals through a culturally responsive and strengths-based lens. I use a variety of therapies through an integrative method which includes, various talk therapies, and alternative therapies such as therapeutic arts, somatic practice, and mindfulness practice. I prioritize your sense of safety, support, and care in every session and throughout all our communications.
As we work together, we join hands to bring forth the power of compassion, acceptance, empathy, understanding, and empowerment in relation to you and your life. In the therapy work, I incorporate Jungian psychology, existential therapy, poly-vagal theory, person-centered therapy, transpersonal psychology, and parts work as a part of the integrative approach. Through the application of these therapies, I work with clients experiencing depression, anxiety, grief, loss, life changes, attachment wounds, relational concerns, trauma, work-related challenges, self-worth concerns, and the desire for personal growth.
I have four years of experience in working with people experiencing loss and trauma through individual and group support. I have a certification in working with Highly Sensitive People
(HSPs), I am a WellCoaches Certified Coach, a Peer Support Canada Certified Peer Supporter, and a Therapeutic Arts Practitioner. I am presently pursuing my Master's in Counselling Psychology at Yorkville University. In addition, I have completed a Trauma Certificate from Laurier University and a Somatic Attachment Therapy Certificate from The Embody Lab.
I strongly believe in the power of the Self and the innate capacity every person contains to transform, heal, and grow into their fullest potential. I respect the initiative and courage it takes clients to reach out for support and I am committed to being present with them throughout our time together.