The School of Living Yoga was founded by Tiina Kivinen and Ally Boothroyd in 2015 through our creation of Embodied Wisdom 200 hr Yoga Teacher Training. We have evolved to offer this 200 hr Yoga Teacher Training both in person in Peterborough and Kawartha Lakes Ontario Canada, as well as online to serve our global community. We also offer Moon to Moon Restorative Yoga Teacher Training and Transformational Sleep Yoga Nidra Teacher Training online.
The School of Living Yoga Circle is an online studio that was created after many requests for a place to gather and practice live, in real-time from any place in the world. With thousands of students across all continents requesting access to workshops, classes and events with our faculty, it only makes sense to take these offerings online in an accessible, affordable and easy-to-use platform like. Our faculty has been dreaming up a way to serve our community in this intimate way for such a long time. We are so excited to connect in live classes and meet humans from around the globe in this online sanctuary. Join us for a one-week free trial.
We also offer Canadian and Costa Rica Yoga Retreats!
Tiina Kivinen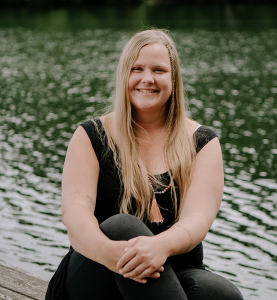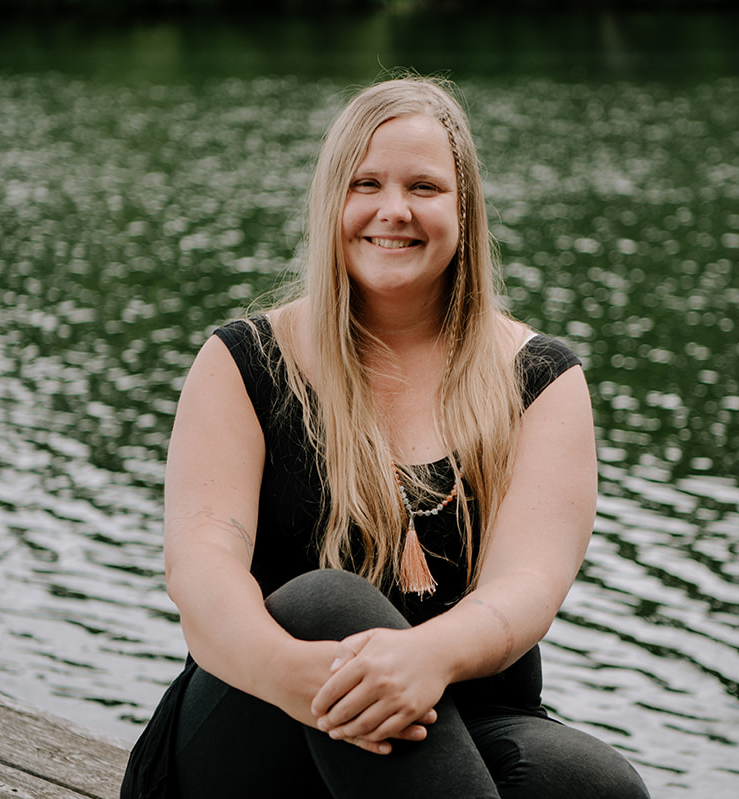 Tiina is a yoga educator of over 20 years and a teacher trainer inspired by the incredible gifts that the yoga tradition brings to everyday life. With reverence for the teachings and respect for culture, Tiina advocates for the possibilities of healing and transformation available to all. She brings a depth of wisdom, compassion and creativity to teaching.
She is passionate about the power of conscious relaxation and brings this passion to yoga and yoga nidra offerings and as a Counseling Hypnotherapist. Tiina is the founder and co-director of the School for Living Yoga with Ally Boothroyd, who together guide Embodied Wisdom 200 hr Yoga Teacher Training, Moon to Moon Restorative Yoga Teacher Training, and Transformational Sleep Yoga Nidra Teacher Training along with the support of Laura and Kristyn.
Tiina also guides retreats in Ontario and Costa Rica. She has thousands of hours of training in diverse Yoga approaches, including Kripalu Yoga, Let Your Yoga Dance, Meditation and Pranayama, Ayurveda, Prenatal Yoga, Yoga Nidra and more, and has served as faculty for trainings at Kripalu Yoga Centre and Nosara Yoga Institute. Tiina is currently pursuing a Master's in Counseling Psychology. Here in the School of Living Yoga Studio, you will find Tiina teaching Gentle and Restorative Yoga, Yoga Nidra, Meditation, Pranayama, and nature-inspired offerings that connect us with the Moon and natural cycles.
Follow Tiina's Youtube Channel here.
---
Ally Boothroyd
Ally is a dedicated yoga & yoga nidra student, a yoga educator and meditation teacher with a passion for Yoga Nidra and the healing power of conscious rest. For over a decade, she has helped millions of people to calm, balance and restore their nervous systems through her classes, YTTs, retreats, workshops and recordings on Youtube.
Ally is dedicated to inspiring depth, creativity, wellbeing and peace by sharing the most potent tools from a variety of yogic traditions. She brings an openhearted, inclusive view to her teachings, which are a rich blend of Kripalu Yoga along with Classical Hatha Tantra, Yoga Psychology, Amrita Living Yoga, Ayurveda and a variety of styles of Yoga Nidra including Integrative Restoration. Ally's path has been one of healing from anxiety, depression, panic attacks and insomnia through the ancient science of yoga, particularly Yoga Nidra & Restorative Yoga.
There is nothing she would rather do than share these precious tools with the world through empowering others to bring these effortless & powerful practices into their lives. Ally has been a faculty member of a variety of teacher trainings over the years and is the co-director to the School of Living Yoga and the creator of Transformational Sleep Yoga Nidra Teacher Training & Moon To Moon Restorative Yoga Teacher Training. She's apprenticed in YTTs & programs at the  Kripalu Centre for Yoga & Ayurveda as well as Ashley Turner of Yoga Psychology. Ally's commitment to ongoing education means that she is always bringing curiosity and new learnings to her offerings! 
---
Lauretta Dunford
Laura is a certified yoga teacher and has been offering class for 8+ years to participants with varying levels of mobility and yoga experience. Since taking her Yoga Teacher Training with The School of Living Yoga,  she has taken over 2000 hours of training, specializing in the areas of Prenatal Yoga,  Yoga Nidra, Ayurveda, Pranayama, Restorative, Chair Yoga and more. She is also a Level II Reiki Practitioner.
In her life, Laura has found the teachings of yoga very inspiring, and the tools to be a huge support in self regulation, and in maintaining a balanced nervous system. Always a student of the practice, Laura feels that yoga helps her to celebrate the intelligence of life, and the wisdom of the natural world and its essence, as the practice also brings a sense of precious ritual to the day-to-day.
Currently, Laura is studying in the field of Herbalism and is also excited to integrate more from the ancient teachings of Ayurveda. She would love to share her journey with you through her offerings in the Circle! Laura is honoured to be a part of your practice here along with her team and mentors in the Living Yoga Studio. Laura brings her experience in guiding Yoga, along with her sweet and welcoming personality and inclusive style of teaching. 
---
Kristyn Rose
Kristyn, an experienced Vinyasa and Hatha yoga teacher, shares her knowledge of dynamic flows and creative sequencing. In her workshops, Kristyn guides students through invigorating practices, blending alignment principles with fluid movements, to ignite inner strength and vitality and balances all of the active practices with incredibly soothing yin, restorative and yoga nidra experiences. Kristyn loves to walk a yogic path in this life deeply connected to the natural world.
Kristyn's offerings are slow and intentional, creating waves of peaceful relaxation and mindfulness practices that weave in the essence of Earth medicine, elemental teachings, lunar wisdom alongside ancient yogic wisdom and Reiki. She offers an organic and holistic approach to healing and her intention is simply, to hold sacred space for you to be yourself, authentically. She believes that a yoga practice is an inward journey towards wholeness, oneness, and certain transformation, or what she likes to call, a 'home-coming'.
Kristyn completed her  200 hour RYT with Ally & Tiina in 2015 and has since then continued training with 30 hour Yoga Nidra YTT, 100 hour Advanced Transformational Sleep Yoga Nidra YTT, Moon to Moon 70 hour Restorative YTT, and 50 hour Yin YTT (on-going). She continues to learn and grow and share her findings with each offering that she guides.