October 23, 2020 - October 25, 2020




4:00 pm - 2:00 pm
with Tiina Kivinen, Fraser Mcdonald, and friends
Lotus Heart Retreat Centre, Brighton ON (less than an hour from Peterborough, accessible to Ottawa, Kingston, Toronto)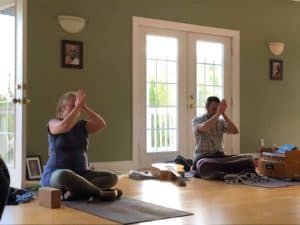 Date and Time: Friday, Oct  23 – Sunday,  Oct 25, (Check-in 4 pm or after on Friday, Check out 2 pm Sunday)
Price: $150+ HST (Deposit)
Price for accommodation and food, paid to Lotus Heart Centre: $300+ HST, Private rooms have a $50 fee for the weekend.
*Accommodations and food are paid for separately, through the Lotus Heart Centre. The full price for the retreat is similar to previous retreats, but we are splitting up the fee, in order to be in compliance with the Travel Industry Council of Ontario.
*Covid 19 Precautions will be in place
Join us this Fall for a weekend immersion in the heart of practice. Located at the beautiful and tranquil Lotus Heart Retreat Centre in the Brighton area. This retreat is for those with all levels of experience with yoga.
Throughout the weekend, Tiina Kivinen and Fraser Mcdonald will hold space together, creating a retreat container for wisdom and connection to emerge from your own inner experience. Within this container of sacred space and intention, you will experience a variety of practices, including Yoga, Meditation, Thai Chi, Pranayama (breathwork), Yoga Nida (yogic sleep meditation), Japa and live music kirtan (chanting). We are excited to welcome guest musicians for Kirtan as well!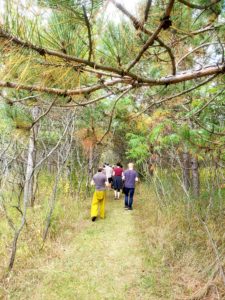 Our intention for this retreat is to foster a space to deepen current practices, cultivate new practices for inspiration, or simply rest within the space of being and see what emerges. Connecting into the heart of our practice, we have the potential to bring a felt sense of the infinite, into our bodies, minds and hearts. Together as a community, we create space for wisdom, clarity, and spirit to arise from within. Community forms as we connect and create, self-care deepens with a focus on compassion and curious contemplation, and the heart brightens with music, chanting, movement, and expression.
The weekend will include:
2 nights stay in a lovely retreat centre, private and shared accommodation
Delicious and nourishing vegetarian meals, with our favourite caterers, Lush Earth
Inspired Yoga and meditation classes and workshops for deepening your practice, with Fraser Mcdonald, Tiina Kivinen and guest musicians
Spacious time to just be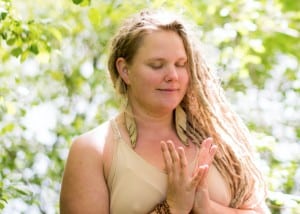 Tiina Kivinen 
Tiina has over 15 years of experience guiding yoga experiences, retreats, and trainings. She has specialization in a variety of yogic modalities. See her full bio and trainings here.
It is one of her passions in life to come together with others, in the spirit of Yoga, self-inquiry, healing, and connection. Tiina loves curating retreat experiences that deepen our experience of Yoga in transformational ways, cultivating practices and ways of being that support thriving in life. Holding space alongside Fraser is a dream come true, as he is a truly wonderful friend and teacher!
Fraser Mcdonald 
Fraser has been practicing and teaching yoga, tai-chi, and meditation for over 18 years. In 2010 he fell in love with Kirtan or meditative chanting, and at the request of his then teacher, he has been leading chants ever since. He has studied, chanted, and offered classes and retreats across Canada, as well as in India and Europe.
These practices have helped him heal from two serious accidents, manage chronic pain, and most importantly, they have revealed a space of profound peace within his own heart. Depending on the need, or joy, of the moment, he has explored everything from the gentlest to most vigorous styles of yoga, as well as many different meditation paths and teachers.
There truly is a yoga, tai chi, and meditation practice for everyone. It is his great love to study these different forms and to offer practices that are intuitively tailored to whoever joins his classes and retreats.
He also offers Bio-Dynamic Cranial Sacral Therapy, which can be profoundly helpful for relaxing and nourishing the nervous system, as well as bringing health to the physical, emotional, mental, and energetic bodies.
Interested? Contact us for more details!