This week of Valentines Day serves as a reminder to practice love, everyday!
How you live, how you respect and inhabit your body, what you do to take care of yourself and live compassionately are all opportunities to live in love. Love is not something that can be given or received, measured or quantified, it is a state of being that you can tap into, that you can strengthen and nourish through practices that open the heart and cultivate wholeness and healing.
At Peterborough Living Yoga, we are here for you, to hold space for the practices that can nourish and support your heart, body, mind, and soul.
This weekend, we have a line up for you, in honour of LOVE and the HEART! Starting with…..
Bhakti Flow Yoga Friday night! Join Fraser and Om Shanties for a Live Music Yoga Class, including kirtan chanting, meditation and movement
Date and Time: Friday, February 17, 7 – 9pm
Use your 10 Class Series, Unlimited, or Drop In for $15 + HST.
Also, join us for Reiki Restorative Yoga, Being a Channel of Love,  with Laura Dunford, Alexa Small, and Jesse Mclellan.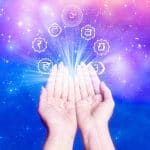 As you rest in restorative yoga postures, we will provide Reiki, physical and energetic assists, and massage.
Date and Time: Saturday, Feb. 18 from 1 – 3pm.
Register Here to join us for an afternoon of restoration and healing!
Sunday, experience the joy of connection, with a  Partner Yoga Workshop 
Perfect for Valentines Day, but all relationships are welcome!
Join Sasha for an afternoon of connection and discovery. Explore Yoga with a partner (friend, family member, anyone you are comfortable with physical contact), being guided through ways strengthen your relationship, connect, develop trust and communication while having fun learning partner yoga techniques. All are welcome, this is a beginner friendly workshop, all levels of experience are encouraged to attend!
Date and Time: Sunday, February 19, 1 – 2:30 pm
We are getting ready for our 2017 200 hour Yoga Teacher Training, which starts soon! We still have a few spaces left, if you are feeling the call to dive into the transformative tradition of Yoga. Amrita Living Yoga Teacher Training is known for its empowerment, creativity and life changing potential. It's weekend format, and payment plans are available. Check out what our 2015 grads have to say here, and follow the YouTube prompt to watch 2014 grad testimonials. Our 2016 video is coming soon!