See our Upcoming Workshops and Events for special workshops and events or Class Schedule & Info for an overview of all of our classes (including non-registered classes). You can make your own registration series using our 10 Class Series,  and build your own rhythm from our many classes per week on our schedule.
Register for one of these Series to commit to practice and save money! If you think you will miss some classes, consider that the Studio 10 Class Series may be a better fit, as the Studio 10 Class Series has flexibility of which classes you come to, while the Registered Classes are only for the class that you are registering for. All of these classes are open to the Studio 10 Class Series, or Unlimited, unless otherwise indicated. When you register, you cannot do make up missed classes. See our cancellation policy here.
If the class that you are interested in attending has already started, you may join in using a Studio 10 Class Series, Unlimited, or contact us to arrange a pro – rated registration! 
Yoga of the Woods; Yoga and Nature Connection
with Natalie Rosso
Date and Time: Tuesdays, September 4 – Sept 26, 4 week session
Price: $50 + HST, register only
Have you ever wondered what it would be like to practice the teachings of yoga under a canopy of leaves?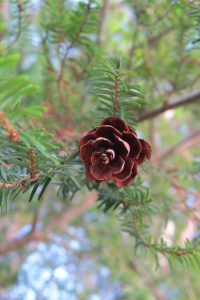 Come practice your yoga in nature!
We will explore asanas (poses) using the natural landscape surrounding us while listening to the melodies of the forest. We will practice walking meditation, pranayama in the fresh air and nature connection. If you love yoga and nature come experience the immersion! Join Natalie Rosso for a 4 week nature and yoga series, taking place in various natural sites in the area.  Locations will be Mark S. Burnham, Trent University, and Jackson's Park.
This class is register only. When you register, provide your email address and phone number, and we will be contacting the group prior to the first date to confirm locations.
Upcoming Registered Series in the Fall Schedule
Gentle Yoga with Breathwork and Meditation
with Tiina Kivinen
Date and Time: Mondays, 5:30 – 6:45pm – 12 weeks, September 24 – December 17
*No class Thanksgiving October 8
Price: $150+ HST, Register to save $! Or use your Studio 10 Class Series, Unlimited, or Drop In.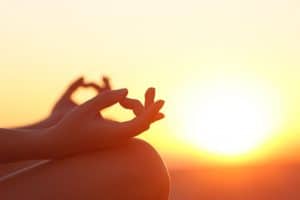 This gentle yoga series is intended to take you deeper into the practices of breathwork and meditation. Yoga means 'union' and refers to the essential unity of body/ mind/ spirit, and this experience of union is available to all of us, in every moment. The practices of Pranayama (breathwork) and Meditation enhance our ability to be present, to calm the nervous system, sleep better, breathe more fully, and ultimately have the potential to optimize our health on all levels (nervous system, immune boosting, calming anxiety/ stress, mental clarity and physical health). This series of open to all (as long as you can climb stairs to get to the studio). Gentle movements will be guided to help prepare the body for deeper meditation and breathing practices, and restorative style postures will assist in the deepening. We will not be sitting still for the full hour, we explore meditation with movement and comfortable stillness. Being comfortable in your position is always a priority.
Space is limited, register now or use your Studio 10 class series. Great for beginner to more experienced practitioners, as well as Yoga teachers looking to deepen your practice and teaching of breathwork and meditation. *Registered Yoga Teachers receive CE credits
Lunar Wisdom; Restorative Yoga and Moon Meditations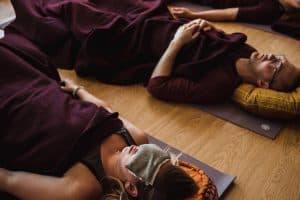 with Tiina Kivinen
Date and Time: Tuesdays, 5:30 – 6:45pm
12 weeks, September 25 – December 11
Price: $150+ hst (Register for all 12 weeks to save $!)
or use your Studio 10 Class Series, Unlimited, or Drop In (if space permits). You can also register after the start date at a pro – rated fee, contact us to arrange!
*Please bring a journal and pen!
A Restorative Yoga series harnessing the wisdom and influence of the Moon. Are you curious about how the Moon may affect your moods and state of being? Are you called to bring awareness to the natural lunar cycle as a way of being with the unfolding of time? This 12 week series with Tiina will involve teachings from the Yoga Tradition, and a heightened awareness of the lunar cycle. Each part of the lunar cycle has the potential to amplify and shine light into various aspects of our selves and our lives.
Restorative Yoga is a practice that helps us to cultivate the 'eye of the storm', a state of balance and calm that can help us navigate the changes and challenges of our lives and our world. Restorative Yoga is yoga for the nervous system.  Using many yoga props, the body is carefully supported in comfortable and relaxed positions, with meditative guidance that facilitates states of meditation, inner peace, and release. Great for all levels of experience.
Yoga Nidra and Hypnotherapy techniques will also be used. Tiina has 15 years of teaching experience, over 1000 hrs of Training, including Essential Nature Restorative Yoga, Yoga Nidra, and is a Resident Hypnotherapis
Mindful Teens
with Kimberly Maclean, from Tree Song Yoga
Date and Time: Saturdays, September 29 – November 10, 12 – 1pm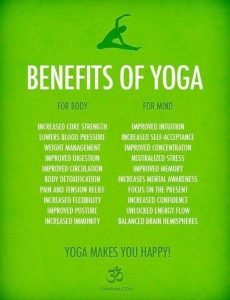 This Youth & Teen class is for both beginners and for experienced yoga students. This 60 min. class will offer students the practice of mindfulness and mindful movement, opportunity for centering and grounding, exploration of asana (poses), self-love practice through gratitude & compassion, affirmations, relaxation & guided meditation and an introduction to the 7 Chakras (the energy centres in the body). Deepen your practice and learn new techniques for a healthy mind & body preparing you for the new school year. This class offers an element of optional hands-on assists and aromatherapy.
Yoga mats are provided or bring yours from home!