March 4, 2018




12:30 pm - 4:00 pm
We are postponing this workshop, as we did not reach the minimum number. If you are interested in attending on another date, please let us know!
Let us harness the energy of our will and intentions, while creating something that we can carry with us and cherish into the future. Join Courtney Buckley and Lauretta Dunford for an afternoon of intentional creation. On this day, participants will create their own unique crystal Japa Mala. Malas are beautiful beaded necklaces, with 108 beads, that are traditionally used as a tool for meditation.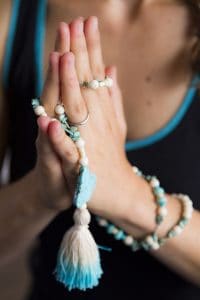 Rhythm of the day:
Through meditation in motion and stillness, we will calm our minds, and open our hearts, making a clear path for our intentions to arise. After our practice we will begin our creations. A thoughtfully selected variety of crystal beads will be available. Each participant will have the opportunity to choose their own unique combination of beads with assistance if needed. An abundance of space will be held for creating your Mala. We will discuss techniques to cleanse and charge our malas and how your mala can support you in your meditation practice. In closing we will experience a mantra meditation to offer support and guidance in moving forward with love, strength, and a clearer sense of self. Connecting with your inner power to manifest dreams into reality. We would love to have you join us! Please don't hesitate to contact us with any questions.