Full Moon Flow and Restore
Class on Zoom with Tiina Kivinen

Date and Time: Monday, December 28, 7 – 8:15pm
Price:$15 + HST
Join Tiina online on ZOOM, for a sweet yoga flow from the comfort of your own home, for the final FULL MOON of 2020.
*Before the event, you will receive an email with the Zoom link. All you need is a mobile device or computer with internet connection. Yoga mat and blanket are encouraged. Participants will mute when we start, and cameras are always optional.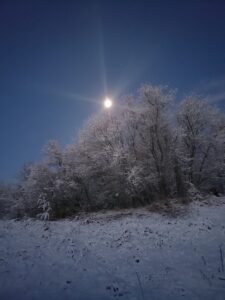 Prana Flow and Restore Yoga is a balanced class, that integrates movement and stillness. Flowing, creative sequences of postures awaken 'prana' – life energy, cultivate strength, mobility, and flexibility, as meditation in motion. From this focus on creative flow,  we move into a deeper stillness with slow stretches and gentle, restorative postures. We include meditation, pranayama (breathing exercises), and wisdom teachings. This class cultivates connection with inner wisdom, intuition, vital energy, while supporting a balanced and nourished central nervous system and relaxed awareness.
When the moon is full, we can draw upon the extra energy and light, to bring a heightened awareness and a connection with natural cycles. We are guided by nature, to illuminate our bodies, minds and hearts.