Gentle Flow and Restore Yoga Series
with Tiina Kivinen
Date and Time: 5 Weeks, Mondays 5:30 – 6:30pm, November 15– December 13
Price: $90 + HST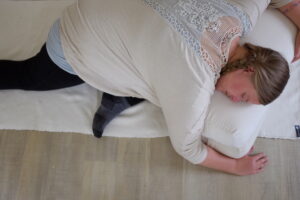 This gentle, restorative-style Yoga class is taking place in person in our Peterborough studio. The class integrates meditation, breath awareness, gentle stretching, and restorative postures to support wellness on all levels of your being. Restore balance in the nervous system, clear the mind, and let go of cumulative tension in your body. Free up your vital energy, inhabit your body in a loving way, and cultivate feelings of peace, compassion, and harmony.
Please bring your own Yoga props if possible, (Yoga mat, blanket, etc), we have some for use if needed
*Covid Vaccination record required
Yoga in Lakefield
with Tiina Kivinen and Sasha lambrinos
Date and Time: Tuesday 10 – 11 am (Tiina) November 9 – December 14, Thursday 10 – 11am (Sasha), November 11 – December 16
Yoga in Lakefield with Tiina and Sasha is starting at the Golden Years Club in Lakefield. Classes include gentle stretching and strengthening, meditation, breathwork, and relaxation. Self-compassion and listening to the body's wisdom is emphasized.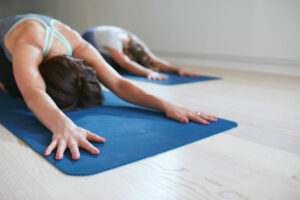 To register, you must become a member of the Golden Years Club. The fee for the Golden Years is $20/ year, and if you register with us and pay the $20 this Fall, it will carry you through to December 2022 for use of their facilities. Upon registration for our classes, we will give you the registration form for Golden Years and process the $20 cash fee at the first class. Vaccine records can be emailed in advance of the first class. Masks are worn when moving about the space but can be removed for yoga practice.
Register for Tuesday (with Tiina)  or Thursday (with Sasha) 10 am 6 weeks sessions or register for both with a discount. Register below (choosing e – transfer is our preferred method, see instructions in registration link ).