July 22, 2018




9:30 am - 12:00 pm
with Kristina Domsic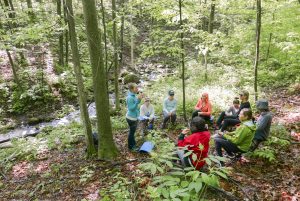 Come and experience the healing benefits Forest Therapy, also known as 'forest bathing' or 'shinrin-yoku'. This special off-site, outdoor mindfulness journey will help you to explore your senses, reconnecting with not only yourself, but also the natural world. We will move slowly, taking time to notice our surroundings and the thoughts and feelings that arise through slowing down.
We will meet at the Jackson Park parking lot off of Monaghan Road. Please come prepared with closed-toe footware suitable for walking on trails, and weather-appropriate clothing.
Kristina Domsic, is a certified Forest Therapy Guide, yoga instructor, and ecologist who blends together her expertise to provide unique mindfulness practices. She started Rooted Heart in 2017 to help people connect to their inner selves and the natural world. Find out more about Forest Therapy at www.rootedheart.ca.