October 28, 2022 - October 30, 2022




4:00 pm - 2:00 pm
with Tiina Kivinen, Fraser Mcdonald, and Dana Salahub
Lotus Heart Retreat Centre, Brighton ON (less than an hour from Peterborough, accessible to Ottawa, Kingston, Toronto)
Date and Time: Friday, Oct  28– Sunday,  Oct 30, (Check-in 4 pm or after on Friday, Check out 2 pm Sunday)
Price: Sliding scale $150+ HST – $220 (Retreat Deposit)
Follow the link below to register for your chosen price, or pay via e-transfer or Paypal/ Credit Card (our preferred method of payment is e-transfer to [email protected])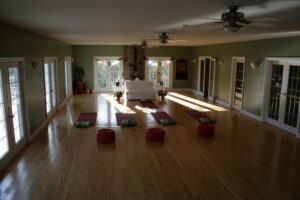 Price for accommodation and food paid to Lotus Heart Centre: $390+ HST, Private rooms have a $50 fee for the weekend. When you register via the 'Retreat Deposit', we will send you instructions for making payment to LHC. ***UPDATE Private rooms are now FULL

*The Price for LHC  and retreat fees have gone up a bit from our last retreat, due to increased operating costs and inflation.  We truly cherish this opportunity to practice and share space together, so we don't want cost to be an obstacle, so we have created a sliding scale option. Please contact us if you need to explore a scholarship.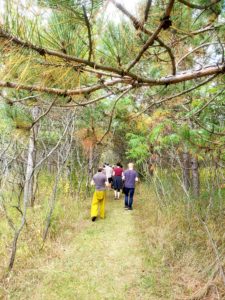 Join us this Fall for a weekend immersion in the heart of practice. Located at the beautiful and tranquil Lotus Heart Retreat Centre in the Brighton area. This retreat – with the fall colours and crisp air and wonderful community connections – is quickly becoming a highlight of the year. It is for those with all levels of experience with yoga.
Throughout the weekend, Tiina Kivinen and Fraser McDonald will hold space together, creating a retreat container for wisdom and connection to emerge from your own inner experience. Within this container of sacred space and intention, you will experience a variety of practices, including Yoga, Meditation, Qi-Gong/Tai Chi, Pranayama (breathwork), Yoga Nida (yogic sleep meditation), Japa and live music Kirtan (chanting). We are excited to welcome guest musicians for Kirtan as well, including Fraser's beloved partner, Dana Salahub.
Our intention for this retreat is to foster a space to deepen current practices, cultivate new practices for inspiration, or simply rest within the space of being and see what emerges. Connecting into the heart of our practice, we have the potential to bring a felt sense of peace and presence into our bodies, minds, and hearts. Together as a community, we create space for wisdom, clarity, and spirit to arise from within. Community forms as we connect and create, self-inquiry with a focus on compassion and curious contemplation, and the heart brightens with music, chanting, movement, and expression.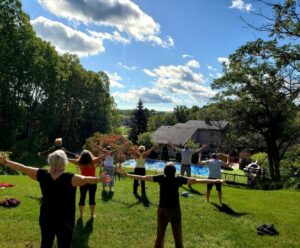 The weekend will include:
2 nights stay in a lovely retreat centre, private and shared accommodation
Delicious and nourishing vegetarian meals
Inspired Yoga and meditation classes and workshops for deepening your practice, with Fraser Mcdonald, Tiina Kivinen and guest musicians
Other highlights include Yoga with live music, campfire Kirtan and Concert, fire ceremony, and a contemplative forest walk w/ Qi Gong practice.
Spacious time to just be.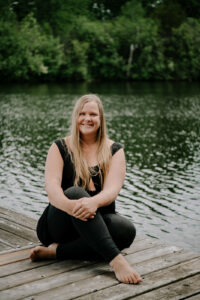 Tiina Kivinen 
Tiina has over 18 years of experience guiding yoga experiences, retreats, and trainings. She has a specialization in a variety of yogic modalities. See her full bio and training here.
It is one of her passions in life to come together with others, in the spirit of Yoga, self-inquiry, healing, and connection. Tiina loves curating retreat experiences that deepen our experience of Yoga in transformational ways, cultivating practices and ways of being that support thriving in life. Holding space alongside Fraser is a dream come true, as he is a truly wonderful friend and teacher!
Fraser Rishi Mcdonald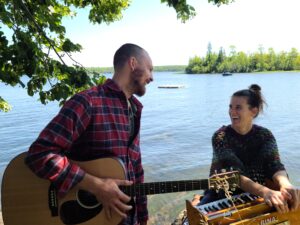 Fraser Rishi grew up in Toronto, Canada, working for many years as a youth worker, writer/performing artist, and teacher.
He has sat with people from all walks of life and witnessed a transformational power enliven these encounters. Inspired by the joy inherent in helping others discover their true nature and curious to deepen his own discovery, he has studied with masters in Hatha yoga, Bhakti yoga, Self-inquiry, and Tai Chi/Qi Gong traditions. This brought him to the feet of his beloved teacher, Sri Mooji, from whom he received the name Rishi. These practices have helped him heal from two serious accidents, manage chronic pain, and most importantly, they have revealed a space of profound peace within his own heart.
He also offers Bio-Dynamic Cranial Sacral Therapy, which can be profoundly helpful for relaxing and nourishing the nervous system, as well as bringing health to the physical, emotional, mental, and energetic bodies. In addition to being an Ontario certified teacher and award winning writer and performance artist, he has completed a mindfulness certification with University of Toronto, 180 hour AYT, 200 hour RYT.
Dana Salahub
Long before Dana discovered spiritual music, listening to music felt like a spiritual experience. Beautiful songs compelled her to clear her mind, open her heart, and tune in to the deepest level of her being. At a young age, she discovered a presence in music that inspired her to be as present as possible with each subtlety of sound and nuance of feeling. Then, almost a decade ago, she started singing Kirtan. Soon she realized: There is some power in the mantras that can't be defined, and when that power is mixed with music, it brings everything to silence and enlivens the heart.  Now that same intimacy and presence she experienced while listening to music in solitude are felt in community, in Kirtan, singing with others, and this is a beautiful thing.
Sliding Scale: Choose your retreat Fee, $150 + HST, $180 + HST, $200 + HST, $220 + HST
We're sorry, but all tickets sales have ended because the event is expired.