March 2, 2022 - March 12, 2022




2:30 pm - 4:00 pm
Date and Time: Wednesday March 2 , 2:30pm EST, 1:30pm CST, 7:30pm UST
In-person at Bodhi Tree Yoga Resort in Costa Rica (register through Bodi Tree for in person session) and on Zoom for our international community.
Register to attend live on zoom or catch the replay! Recording will be sent out after the class.
The New Moon is a beautiful time to deeply rest and allow your being to restore balance and harmony through Restorative Yoga and Yoga Nidra. Restorative Yoga invites deep rest, while supported and nourished within longer held and deeply comfortable postures. Yoga Nidra is a yogic sleep practice that fosters inner states of resilience and connection with your inner compass and heart's calling. Together, these practices create a balm for the nervous system and offer space for intention to emerge during the beginning of the new lunar cycle. This workshop is for all levels of experience with Yoga and Yoga Nidra.
~For those who join us live on Zoom, you will be emailed the zoom link on the day of the class. Please register with the email that you would like to receive the link to! You must register by 11am EST on Wednesday March 2, 2022.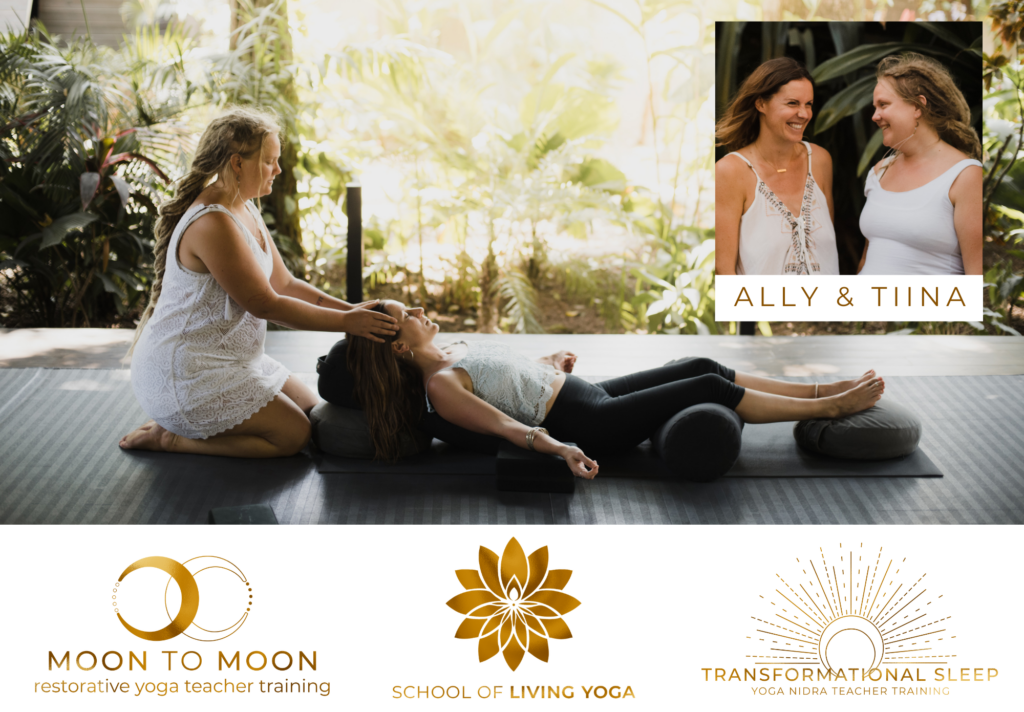 Ally Boothroyd is a yoga educator and meditation teacher with a passion for yoga nidra and the healing power of conscious rest. Over the years, she has helped tens of thousands of people to calm, balance and restore their nervous systems. She teaches therapeutic tools for reversing exhaustion, stress and anxiety. She helps people manage feelings of overwhelm and reconnect to their sensitive biorhythms and the natural world. She is the founder of Sarovara Yoga, a yoga space and women's retreat centre in Ontario, Canada. A sanctuary on the water where she fosters local community and supports health, personal growth, emotional resiliancy, authenticity, awareness, and awakening. She is also, the co-director of the School of Living Yoga alongside Tiina.
Ally is dedicated to inspiring depth, creativity, and joy by sharing the most potent tools from a variety of yogic traditions. She brings an openhearted, transparent, inclusive view to her teachings, which are a rich blend of Kripalu Yoga along with Classical Hatha Tantra, Yoga Psychology, Yoga Nidra, Integrative Restoration, Amrita Living Yoga, Energy Medicine, and of course Living Yoga, as the co-director of the 200 & 300 Hour Teacher Training Programs. Ally has also developed Transformational Sleep Yoga Nidra YTT and with Tiina, Moon To Moon Restorative Yoga YTT.
Ally has travelled to Nosara, every year, for the past nine years. What brings her back are the healing properties, nourishing foods, perfect weather and thriving yoga community on this serene beach (not to mention, the sassy swells).
Tiina Kivinen is a yoga educator and teacher trainer who is inspired by the incredible gifts that the yoga tradition brings to everyday life. With reverence for the teachings and respect for culture, Tiina advocates for the possibilities of healing and transformation that are available to all. She brings a depth of wisdom, compassion and creativity to teaching, and is particularly excited by empowerment-based approaches to mentoring and training teachers. She is passionate about the power of conscious relaxation and brings this passion to her work in the yoga field and also as a Counselling Hypnotherapist. Tiina is the founder and co-director of the School for Living Yoga with Ally Boothroyd, who together guide 200 hr Yoga Teacher Training, Moon To Moon Restorative Yoga Teacher Training, Transformational Sleep Yoga Nidra Teacher Training among other classes, workshops and retreats. Tiina has thousands of hours of training in diverse Yoga approaches, including Kripalu Yoga, Let Your Yoga Dance, Meditation and Pranayama, Ayurveda, Prenatal Yoga, Yoga Nidra and more, and has served as faculty for trainings at Kripalu Yoga Centre and Nosara Yoga Institute. Tiina is currently pursuing a Masters in Counselling Psychotherapy, and can often be found roaming the lands of her off-grid farm community in Ontario with her dogs. Tiina has been teaching Yoga since 2002, and has offered retreats in Costa Rica since 2012. Her love of tide pools, sunsets and tropical nature keep her coming home to Nosara Costa Rica.
We're sorry, but all tickets sales have ended because the event is expired.