May 27, 2017




1:00 pm - 3:00 pm
with Stephanie Reynolds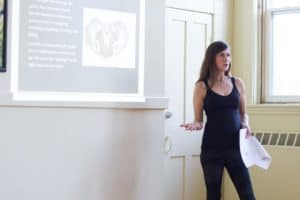 Price: $40 + Hst
*Open to everyone, but this is a GREAT opportunity for Yoga, fitness, bodywork professionals to learn more about the Pelvic Floor!
Do you pee a little when you run, laugh or sneeze? Worried about prolapse? Low back pain? There's a good chance that your pelvic floor (the area of muscle between your tailbone at the back and pubic bone at the front) and deep core muscles aren't functioning properly.
Too often, these issues are thought of as the inevitable consequences of childbirth or aging. But there's something you can do about it!
Join yoga instructor Stephanie Reynolds for a 2 hour, interactive workshop where you'll learn:
The right way to do a Kegel (did you know most women do them wrong? And that not all women should do them?)
How dysfunction in your core and pelvic floor can lead to disorders like incontinence or prolapse
Simple lifestyle modifications to improve core and pelvic floor health
Specific exercises to condition the pelvic floor muscles
You'll leave this workshop with more body awareness, a better understanding of how to prevent and treat pelvic floor disorders, and a workout routine that you can do at home!
These exercises are suitable as a prenatal and postpartum fitness routine. You'll receive a handout so you can do the exercises at home.