June 21, 2019




7:00 pm - 8:30 pm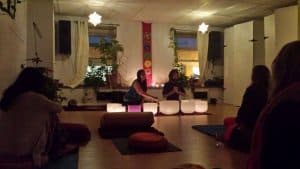 A beautiful and meditative sound experience. Rebecca will provide a sacred soundscape to help guide you into alignment and allow your inner light to shine. We have three events this Spring, each with either Crystal bowls or Gongs as the primary sound, both including other resonant instruments to enhance the journey.
Crystal Bowls – Fridays, April 19, and June 21, 7 – 8:30pm
Come bathe in the sweet sounds of crystal singing bowls and many other lovely sound healing instruments. Rebecca will gently guide you into a relaxed and grounded state and then produce sweet sounds and song to carry you into a deep meditative experience.
Gongs – Saturday, May 11 7:30 – 9pm
The gong is a multi-tonal and powerful instrument that can help you shift and transform in amazing ways! Join Rebecca with her collection of gongs for a visceral sound experience. Drop into a deep meditative state and allow the energy of sound to wash over you and through you as you release what no longer serves. Rebecca will open and close with other sweet sounds leaving you feeling refreshed and rejuvenated.
More about Rebecca:
rebeccawhiteraven.wordpress.com