April 7, 2016




7:00 pm - 8:15 pm

April 14, 2016




7:00 pm - 8:30 pm

April 21, 2016




7:00 pm - 8:30 pm

April 28, 2016




7:00 pm - 8:30 pm

May 5, 2016




7:00 pm - 8:15 pm
with Tamara Pereira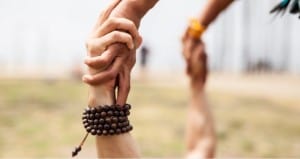 Dates and Time: Thursdays April 7th 7-8:15pm, April 14th 7-8:30pm, April 21st 7-8:30pm, April 28th 7-8:30pm, May 5th 7-8:15pm

Fall in love all over again in this dynamic and playful relationship strengthening series.
In five weeks you and your partner will dive into the art of learning a partner sun salutation. This isn't acrobatic, but more integrative postures that allow you to guide one another through support of movement. Interlinking body movement as you flow through a sun salutation that creates awareness and connection. Very available to beginners and practicing yogis alike. This is a beautiful and intimate approach to creating something with your beloved that you can carry into your every day if you choose. We will also be exploring dynamic and interactive partner exercises to deepen connection and awareness in order to strengthen bonds.
Learn about the art of relationships, learn to really listen and deepen your Love with one another in a very light and fulfilling way. This is a great way to freshen up, fall in Love all over again and deepen your relationship. Also appropriate to do with a friend if you feel the call to come play. Laugh and learn about relationships in general:)
GUARANTEED LOVE!! Play. laugh. love. it's so sweet! 5 weeks of serious Love building!

Price: 5 week Thursday evening series $160 +HST per pair
We're sorry, but all tickets sales have ended because the event is expired.