December 20, 2020




7:00 pm - 8:15 pm
Join Tiina Kivinen and Nicole Laureen for this evening of restorative sound magic.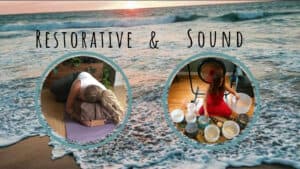 Here in the Northern Hemisphere, the Winter Solstice marks the longest night, and signals the powerful transition between seasons. As we move into winter, nature teaches us to slow down, embrace stillness, and tuck into the healing solace of hibernation. In this session, on the eve of the Winter Solstice, we will bring ritual to this sacred time, and allow the practices of Restorative Yoga and Sound to bring us more deeply into a healing rest and reset.
Restorative yoga draws upon the healing force of deep relaxation, using gentle and supported yoga postures, guided meditation and relaxation. While you rest and relax, you will receive the healing vibration of sound, with alchemy crystal singing bowls, gong, chimes, rattles, and angelic song channeling. When created with focused intention, the power of sound vibrations are profoundly healing for the human body, mind, and spirit, bringing your experience of restorative yoga to a new level of depth. Spaces are limited, registration only.
We're sorry, but all tickets sales have ended because the event is expired.