Atha Yoga Nushasanam – Now begins the Practice of Yoga… the teachings of Yoga are in the Present Moment.. Yoga is the Present Moment….(1st Sutra of Patanjali) 
So how can we stay present in the reality of our day to day lives, amidst the challenges, the stresses, illness, injury, life change…. how can we practice moving in to experiences rather than away , to lean IN to the moment rather than away from it? To relax, as it is, here and now… and then when things are blissful, not be attached to that particular bliss?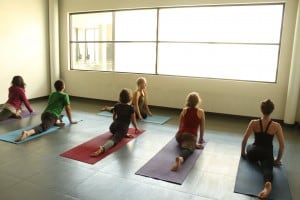 The practice of Yoga is the practice of being Present, and that means that its not always going to feel good.  One of our human tendencies/afflictions, or what Yoga philosophy defines as a Klesha, is our constant pushing away what is not comfortable, 'dvesa', or clinging or being attached to what we find pleasurable or comfortable, 'raga'. This attachment and aversion are just a couple of ways that our human conditioning estranges us from the present moment, and thus our natural state of Yoga. The time you spend on the mat, stretching, breathing, exploring physical forms and the interplay of breath, awareness and sensation, becomes a mirror for the rest of your life. How you approach your forward bend or your warrior pose becomes a microcosm of the macrocosm of life itself and how we move through it. For example, do you push yourself to go deeper into a pose, maybe beyond your edge? Or when you are in Pigeon Pose and the sensation in the hips gets intense, do you check out of the moment and go on a mind trip planning dinner? Meeting yourself fully in the Present Moment is a practice that takes … practice. And what you practice, strengthens.  So trust that as you commit to your practice, you commit to your well being and ability to take the practices of Yoga off the mat and into your life and into the world, for the benefit of all beings!
The real nectar of Yoga comes alive in the inquiry of the Self, the journey of self realization and the awakening of the heart to compassion, love, and acceptance of what is.
Are you called to deepen your inquiry of the Self? Join me for the upcoming Yoga Teacher Training in Peterborough, Ontario, launching this October 2014. For me, this training is born from 11 years of teaching to diverse communities, 500 + hrs of certification, and my continued commitment to being a student of Yoga myself. After spending many years supporting Yoga Teacher Trainings as staff and faculty at the 200 hr and 500 hr levels with Nosara Yoga Institute and Kripalu Centre for Yoga and Health, it is time for me to give birth to a training with my own newly accredited school, Amrita Living Yoga. Through this training you will receive a 200 hr Yoga Alliance accredited certificate, as well as experience the myriad benefits that come from making a commitment to your own awakening, self love, and Self Realization. Space is limited. Apply here.