This January, 15 beautiful souls went into the Costa Rican rainforest to retreat, sharing 7 days of transformational yogic practices for my 2nd annual Rhythms of Joy Yoga Retreat. We gathered in a vibrant rainforest oasis, Finca Luna Nueva, a retreat center/biodynamic farm that exists as an inspiring model of sustainability and living in harmony with nature. I couldn't imagine a better place for us to dive into practices that cultivate wholeness, harmony, and unity consciousness.
Our delicious, healing food was grown and raised with love and compassion…..spinach trees, turmeric, ginger, so many fruits, happy chickens, pigs and water buffalo cheese and ice cream! YUM!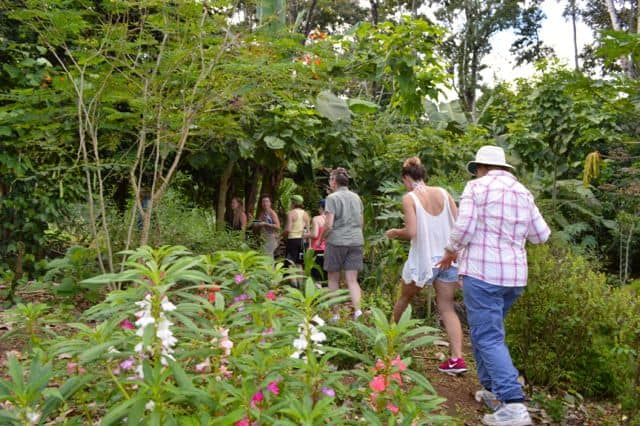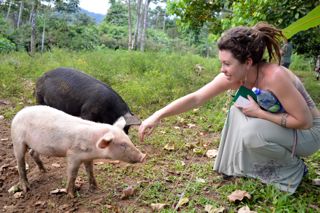 Creating Space
Holding a sacred space for transformation and heart centred self exploration with my dear friends Joshua and Luna is a dream come true, again. Luna, Joshua and Jaya are bright lights who illuminate the space around them.
With Luna's musical offering of Bhakti Yoga, Joshua's mindfulness classes and graceful ability to pull of all the logistics of planning a retreat, our co creation is a deep blessing. Our birding guru Rick said it well in that Luna is the Soul, Joshua is the Mind, and Tiina, the Heart.
Gracias Dios!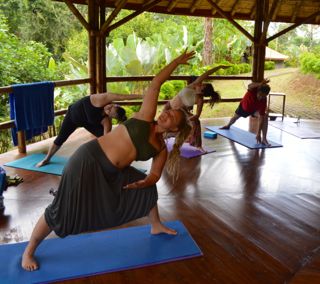 We were thrilled to welcome our participants to amazing Costa Rican weather, while taking a break from the polar vortex winter in Canada. I was so grateful, even in the RAINforest, it only rained a couple of times lightly, when were under our yoga pavilion, and again when we were in the hotsprings which was perfect. The sun was beautiful and felt glorious on all of us. On excursion day, a group went zip lining through the canopy and we all soaked for hours in healing volcanic hotspring pools and waterfalls.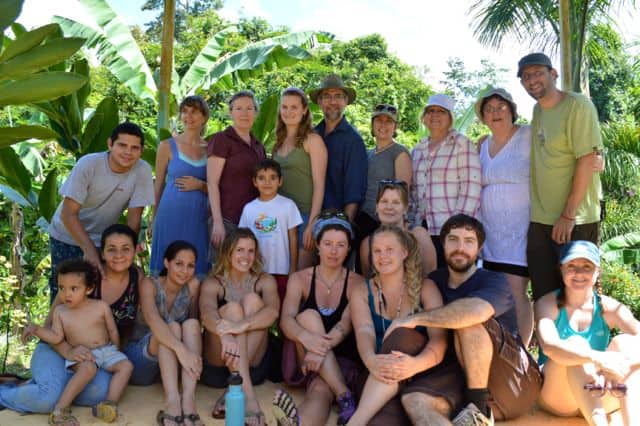 Compassionate Action
We took an unforgettable trip to a nearby village San Rafael to give a day of Karma Yoga, loving service to a sweet family there. We planted corn for the local school, weeded beans (hard core amazing weeders!), painted signs for the garden (lucky to have Lisa, who is an artist!). We made sugar cane juice (thanks to some powerful muscles in the group;) and enjoyed a sugar cane ceremony. The family offered us an amazing traditional lunch and we shared laughter, song and tears. This experience was immensely beautiful and fun and allowed us the incredible blessing of connecting with the local culture of Costa Rica.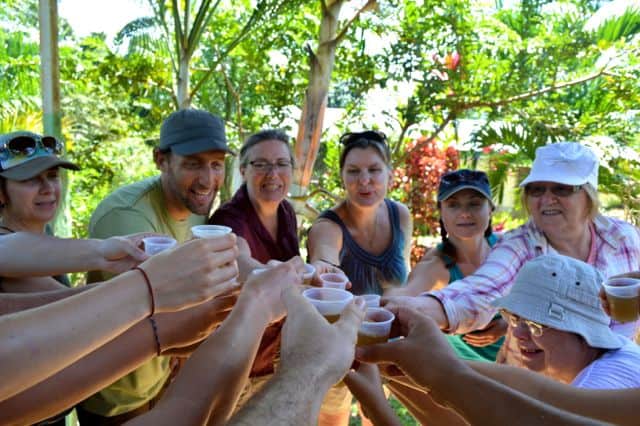 Living Prayer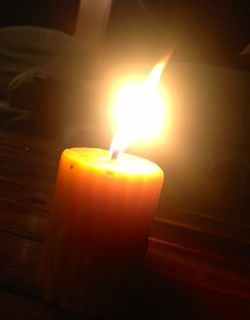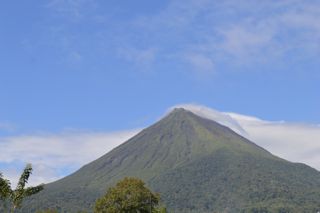 This retreat was a true embodiment of prayer. We shared many sacred circles of song, dance, and silence, often channeling our intentions to offer healing and love to others in our lives and to our selves. Lokah Somastah Sukhino Bhavantu. May All Beings Be Happy, Free, May all Know Peace, for This I See.
Infinitely Grateful
Deep gratitude to all of the amazing people who made this journey together. Thank you so much for your Presence, for creating space in your life to take this trip, for diving in whole hearted. Praises and Love to my soul friends Joshua and Luna for co-creating together with so much ease and joy. Thank you to my dear Aunts Sandy and Evelyn who came and added so much to our group and helped me represent the family clan! Thank you to everyone who made this trip, you all made this experience so magnificnent and truly unforgettable. I am already looking into what next year's retreat will look like, so excited. Contact Me to get on the early-bird list!
I am writing this from Nosara, having just returned from Tamarindo where I witnessed my friends Ally and Jay proclaim their wedding vows to each other barefoot on the beach. I guided yoga daily for the wedding guests, including a special wedding day class for the bridal party 🙂 I am honoured to have contributed to a nourishing vacation and a more centred and easeful pre and post wedding for Ally. Anyone interested in adding yoga to your upcoming wedding or special event? I am taking 2014 bookings now. Contact Me for details.