Join us for a wellness and craft inspired holiday market, with all kinds of lovely local artisans and makers.  Each year, we also offer special sales and discount offerings on our Yoga classes, holistic treatments and special events. Come to browse the goods, and stay for the friendship, community, tea and snacks. We look forward to celebrating with you!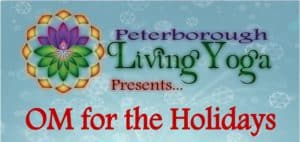 Vendors Include
Rasa Ayurveda
Sweet Flowering Yoga and Wellness  – lip balms and shimmers, body butters, aromatherapy, eye pillows
Green Street Peterborough – eco lifestyles, eco yoga props including bolsters, mats, and more!
Junkiri Crafts – knitted socks, scarves, hats, and more, and incense and Malas from India
Donna Southern – Yoga Mat bags and felted crafts
Luna Herbals –  Beeswax Candles, salves and herbal products
Heather Reed  – Caring for Bodies and Inspiration for the Soul – jewellery and hot and cold packs
Shelle Bellious – nature inspired resin and crystal jewellery and printed clothes
We will be having a community Kirtan (yogic chanting celebration), after the market 4:15 – 5:30pm, by donation. Donations will be going toward recording projects, so the music can lift up more hearts! All are welcome.
Follow our Facebook event for vendor announcements, and images of what you will find at the market this year!