COVID 19 – CLASSES IN STUDIO ARE CURRENTLY POSTPONED. STAY TUNED FOR SEPTEMBER RE OPENING.

CONTACT US FOR OUTDOOR YOGA THIS SUMMER IN PETERBOROUGH, LAKEFIELD AND MARMORA, ONTARIO.
Check out our online course, and visit our Youtube Channel for Yoga Classes and Meditations.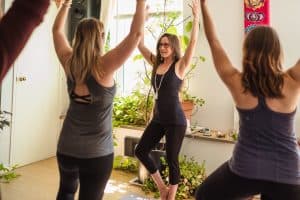 Hatha Yoga

A class focused on integrating mind/ body/ spirit through the careful articulation of Yoga postures, breath work and meditation. Hatha Yoga classes emphasize  steadiness and ease, strength, stability, and relaxation.
This creatively sequenced class will guide you towards deepening your asana practice by weaving movement, breath, and mindfulness together with careful alignment and longer holds. This class will offer variations and use of props to make our practice fun and accessible, whether deepening our practice of common postures, or exploring paths towards more complex postures.
All levels are encouraged to attend.
Gentle Yoga

Sweet and gentle sequences of movement with an emphasis on slowing down, breath awareness, meditation and connection with inner wisdom. Gentle Yoga will stretch and strengthen the body in a gentle way, with an emphasis on flowing slowly with enhanced body awareness. Includes the fundamentals of yogic breathing, meditation, gentle postures and relaxation. Great for beginners and more experienced practitioners, as we all benefit from cultivating ease and relaxation.
Restorative Yoga (including Soul Wisdom/5 Elements Restorative Yoga)

This class is designed to bring deep relaxation to the body, mind, and nervous system. Including restorative yoga poses, breathing, relaxation and meditation that enhance body awareness, connection to inner wisdom, and deep restoration. Perfect to unwind from daily life, experience deep peace and relieve stress, anxiety and burnout. Open to all levels of experience with yoga. This class will melt you!
Prana Vinyasa Flow Yoga
Prana Vinyasa Flow Yoga integrates meditation, pranayama (breathing exercises), and vinyasa style yoga posture flows (vinyasa = flowing with breath). This class is designed to awaken the flow of 'prana – life energy', through creative sequences of yoga postures and meditation, enhancing connection with inner wisdom, intuition, and vital energy. Some experience is recommended, but all are welcome.
Hatha Yoga with Aromatherapy
A gentle hatha yoga practice, incorporating the healing elements of therapeutic grade essential oils. This class includes yoga postures and sequences of movement, meditation, breathing, and relaxation, as well as the use of essential oils for aromatherapy. Aromatherapy is always used with safety, and enjoyed in a variety of ways, such as diffusing, massage oils, inhalation, and smudge. This class is not recommended for those with scent sensitivity.
Prana Flow and Restore Yoga
Prana Flow and Restore Yoga is a balanced class, that integrates movement and stillness. Flowing, creative sequences of postures awaken 'prana' – life energy, cultivate strength, mobility, and flexibility, as meditation in motion. From this focus on creative flow/ vinyasa, we move into a deeper stillness with slow stretches and gentle, restorative postures. We include meditation, pranayama (breathing exercises), and wisdom teachings. This class cultivates connection with inner wisdom, intuition, vital energy, while supporting a balanced and nourished central nervous system and relaxed awareness.
We are located at 394 George St. N Peterborough ON, Upper (purple door directly beside Hasseltons Coffee Shop). Parking is available on the street, or in any of the municipal lots (Hunter St/ Simcoe St. parkade or Hunter St lot).