We are located at 394 George St. N Peterborough ON, Upper (purple door directly beside Hasseltons Coffee Shop). Parking is available on the street, or in any of the municipal lots (Hunter St/ Simcoe St. parkade or Hunter St lot).
Class Payment Options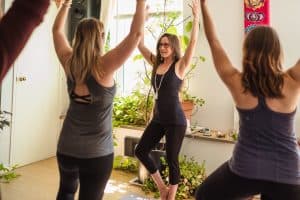 Remember – You can join classes anytime! There is no break between seasonal schedules. We are located at 394 George St. N Upper (purple door directly beside Hasseltons Coffee Shop).
Registered Classes are pink below (if schedule table is visible, on larger screens). See more info and register for Registered Classes Here to save $ and secure your spot. Most registered classes also have room for 10 Class Series and Unlimited passes, and Drop In's.
Holiday Schedule: December 21 – January 2
Thursday, December 27: 12:10pm- 12:50pm  – Prana Vinyasa Flow Yoga with Laura
Thursday, December 27: 5:30 – 6:45pm  – Hatha Yoga with Alexa
Sunday, December 30: 7:30 – 8:45pm – Restorative Yoga with John
Winter Schedule: January 3 – March 21
Hover over classes and click the links to see more info on classes and instructors, or scroll down to see Class Descriptions.
| | Mon | Tue | Wed | Thu | Fri | Sat | Sun |
| --- | --- | --- | --- | --- | --- | --- | --- |
| 10:00 am | | | | | | | |
| 12:10 pm | | | | | | | |
| 5:30 pm | | | | | | | |
| 7:00 pm | | | | | | | |
| 7:15 pm | | | | | | | |
| 7:30 pm | | | | | | | |
Class Descriptions
Yoga Foundations: A class for Beginners and All!
This class is the perfect place for brand new students who are interested in practicing yoga for the first time, as well as for those want to brush up on some basics. No flexibility required! This welcoming and playful class will introduce the foundations and proper alignment of common yoga poses. One-on-one attention will help students find the best modifications and props to support their unique bodies. Basic breathing techniques, simple guided meditations, and restorative postures will also be introduced.
Hatha Flow Yoga 
A balanced flow integrating yoga postures, meditation, breath, relaxation and connection with inner wisdom. The class style will vary depending on who is guiding, but the benefits are the same; relaxation, strength, flexibility, balance, stress relief, and inner peace. Open to absolute beginners, seasoned practitioners and all in between!
Gentle Flow Yoga

Sweet and gentle sequences of movement with an emphasis on slowing down, breath awareness, meditation and connection with inner wisdom. Gentle Yoga will stretch and strengthen the body in a gentle way, with an emphasis on flowing slowly with enhanced body awareness. Includes the fundamentals of yogic breathing, meditation, gentle postures and relaxation. Great for beginners and more experienced practitioners, as we all benefit from cultivating ease and relaxation.
Restorative Yoga (including Soul Wisdom/Lunar Wisdom Restorative)

This class is designed to bring deep relaxation to the body, mind, and nervous system. Including restorative yoga poses, breathing, relaxation and meditation that enhance body awareness, connection to inner wisdom, and deep restoration. Perfect to unwind from daily life, experience deep peace and relieve stress, anxiety and burnout. Open to all levels of experience with yoga. This class will melt you!
Prana Vinyasa Flow Yoga
Prana Vinyasa Flow Yoga integrates meditation, pranayama (breathing exercises), and vinyasa style yoga posture flows (vinyasa = flowing with breath). This class is designed to awaken the flow of 'prana – life energy', through creative sequences of yoga postures and meditation, enhancing connection with inner wisdom, intuition, and vital energy. Some experience is recommended, but all are welcome.
Movement Medicine Dance
This class will combine yoga, somatic exploration, and free flowing, ecstatic dance. Each class follows a wave, from centering and warming the body, to explorations on and off the mat, and back to stillness and relaxation, set to an inspiring set of music that will move you. No yoga or dance experience is needed!
Guided Meditation  -New dates TBA
A gentle guided meditation for all levels of experience. Learn techniques and tools for relaxing the mind, body,and nervous system. Meditation has the potential to cultivate states of relaxation, ease, presence, and serenity, opening us up to a natural and effortless state of peace.
Seasoned and brand new meditators welcome. BY DONATION