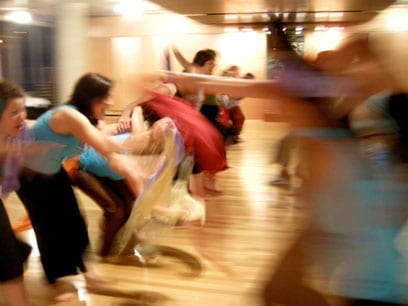 Let Your Yoga Dance (LYYD)  is a creative fusion of Yoga and intuitive, expressive movement. The roots of LYYD are in Kripalu Yoga's meditation — in – motion, in which yoga practice evolves into an experience of spontaneous, pranic awakening, rather than the static holding of postures.  In Yoga Dance classes,  I guide a meditative movement journey in which our breath and intuition guide us. Yoga Dance ignites and cleanses the Chakras (energy centres), as they guide us deeper into our multidimensional selves as we dance.
Riding the waves of beats and rhythms from all over the world, you will discover that Yoga and Dance are One. Yoga Dance is medicine; we release, we bless, we transform, we ignite, we heal, and we have fun. The space is sacred and inviting, with lots of permission to be guided by inner rhythm and lots of inspiration to be expressive and playful. This fun and deeply moving practice connects us with the pulse of creation while offering all the benefits of a cardiovascular workout and yoga session.
No experience in Yoga or Dance is necessary. Expect an increased Love and respect for the body.
Love dancing and yoga? Want to tranform your life with a brilliant new livelihood as a Let Your Yoga Dance Instructor?  I currently serve as assistant director with Megha Buttenheim of Let Your Yoga Dance Teacher Training in Nosara Costa Rica . Join us!
Check out upcoming Yoga Dance workshops
Watch Chakra Dance Video on YouTube