September 28, 2018 - September 30, 2018




4:00 pm - 2:00 pm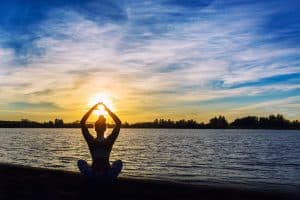 with Tiina Kivinen and friends of Peterborough Living Yoga
Dates: September 28 – 30, 2018, arrival anytime after 4pm Friday, and departure at 2pm Sunday.
Join us for a weekend of late summer enjoyment around the time of the Autumnal Equinox. We are excited to be partnering with the new managers of 
Fees Landing Resort
 on Pigeon Lake, only 20 min from Peterborough.
If you feel a calling to deepen your practice, or if a weekend retreat would nourish your being, we would be honoured to have you. When we tap into the heart of our practice, we have potential to bring a felt sense of the infinite, into our bodies, minds and hearts. Through Bhakti Yoga, chanting, yoga classes, meditations, deep restoration/ Yoga Nidra, live music, expressive arts, and nature connection, we create space for wisdom, clarity, and spirit to emerge from our own depths. Community forms as we connect and create, self care deepens with a focus on contemplation and meditation, and the heart brightens with music, chanting, movement, and expression. Being on the lake nourishes the soul, as we embrace the final moments of Summer.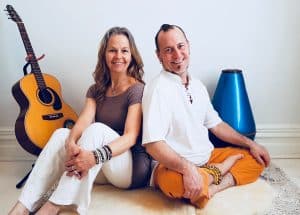 We are happy to have Shantdeep and Scott joining us to offer live music yoga and kirtan (yogic chanting).
The weekend will include
2 nights stay in a beautiful lakefront resort on Pigeon Lake
Delicious and nourishing meals, incredibly healthy and tasty!
Inspired Yoga and meditation classes and workshops for deepening your practice, including Live Music Yoga and Kirtan
Spacious time to enjoy the sandy beach, SUP, canoes, kayaks, and simply relax into enjoyment
Your lakefront cottages, with docks and sunset views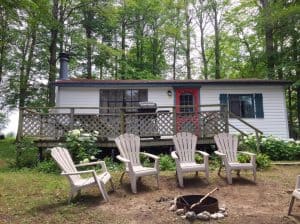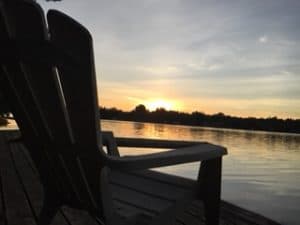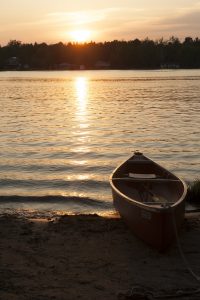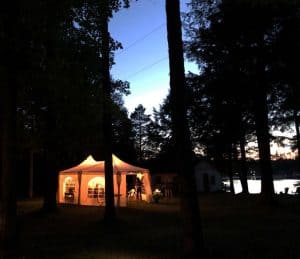 Words from your guide and retreat curator, Tiina Kivinen
It is my pleasure and honour  to offer this retreat in collaboration with the lovely Lora of Fees Landing Resort! It is one of my passions in life to come together with others, in the spirit of Yoga, self inquiry, wellness, and connection. I have been guiding Yoga experiences for about 15 years, and during this time, retreats (as well as trainings!) tend to be some of the most magical, and powerful experiences. During this retreat, we will be joined by some amazing Peterborough Living Yoga Community, including Lauretta Dunford and Angella Windrem supporting with yoga guidance, Shantdeep offering music and chanting, and perhaps a few other surprises. We will also have the opportunity for you to receive personal treatments in massage and Reiki.~
This retreat is special as it offers an opportunity to deepen our practices, in the cathedral of nature. We will be practicing Yoga outdoors (weather permitted), with lots of opportunity for you to take advantage of canoes, kayaks and SUP, swimming and just being.
~Some Words from Past Retreat-ants~
Going on Yoga Retreat in Costa Rica with Tiina was the best money I have ever spent. I cannot explain fully how it has restored every ounce of my being to wholeness.
– Chris Cordy
It was my first time at a retreat and I really enjoyed it, it was worth every penny!  Yoga Nidra, morning yogas, food, massage, music, meditation walk, all of it and the socializing with a warm and friendly group of people. I came away feeling happy, inspired, and optimistic about embracing yoga as a lifestyle. I feel the benefits from that weekend are long lasting – I am surprised that I still feel them nearly 2 weeks later! So some sort of shift took place for me, but I feel I need to keep the momentum going by being mindful and practicing yoga on a regular basis.
– Anonymous
It is through your leadership Tiina, that we are all able to explore, inquire, and experience, within your loving and caring guidance. Thank you for always sharing your love, support and wisdom with all of us. You always provide such a safe and non judging environment, which is why it is always such an honour and pleasure having these kinds of experiences with you.
– Angella Windrem
The retreat was beautiful in many ways – the vegetarian food, the accommodations, the massage, the walking paths, the weather, the moon, the fire, the music, the relaxation, and of course "the practice of yoga" …..and on…., but most of all – the feeling of warmth, discovery, community and compassion in the diverse group of human beings who came together! For me personally it was a positive re-enforcement for the journey I have been on for the past few years and this was the perfect place and time to experience a sampling of the opportunities that lie ahead on the pathway to enlightenment and simplicity in this life…..many thanks for this!
– Ray Maclean
*We published an earlier newsletter with different prices, we have adjusted it due to a mistake
*See our Cancellation Policy here