See our Registered Classes for ongoing series of workshop-type classes, and our Weekly Schedule to come out to classes any day of the week!
Karuna Yoga: Yin Yoga for Self-Compassion
with Kay'la Fraser
Date and Time:  Saturdays, January 6, February 3, and March 3, 10- 11:30 am
Price: $25+HST

Experience 1.5 hours of Meditation, Yin Yoga and Reiki bliss as you allow yourself to take up space on your mat with self-compassion. Yin Yoga is a style of yoga that works with the connective tissue, and allows a deep and often emotional toxin release by using long holds. This workshop will empower you to release and hold ceremony as a practice of Self-Compassion and a pathway to Self-Mastery. Reiki Touch Assists will be provided to clear blocks and empower energetic releases as you increase flexibility, strength and presence through compassion.
To the C.O.R.E.
with Kay'la Fraser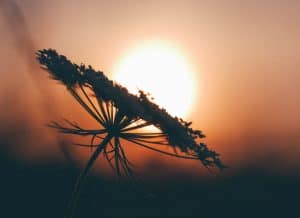 Date and Time: Saturdays, January 6, February 3,  March 3, 12-1:15pm
Price: $15 + HST. Register to save your space, or use your Studio 10 Class Series, Unlimited, or Drop In.
You are a courageous, open, radical and energetic being to the core. Celebrate your inner radiance with breath work and a Vinyasa flow designed to build heat, tone, lengthen and strengthen. Modifications will be offered throughout the class. All beings and bodies are most welcome!
Crystal Mala Making Workshop
with Laura Dunford and Courtney Buckley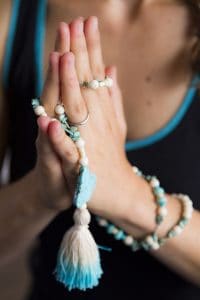 Date and Time: Sunday March 4, 12:30 – 4pm
Price: $85 + HST (includes your own beautiful crystal mala)
Let us harness the energy of our will and intentions, while creating something that we can carry with us and cherish into the future. Join Courtney Buckley and Lauretta Dunford for an afternoon of intentional creation. On this day, participants will create their own unique crystal Japa Mala. Malas are beautiful beaded necklaces, with 108 beads, that are traditionally used as a tool for meditation.
Rhythm of the day:
Through meditation in motion and stillness, we will calm our minds, and open our hearts, making a clear path for our intentions to arise. After our practice we will begin our creations. A thoughtfully selected variety of crystal beads will be available. Each participant will have the opportunity to choose their own unique combination of beads with assistance if needed. An abundance of space will be held for creating your Mala. We will discuss techniques to cleanse and charge our malas and how your mala can support you in your meditation practice. In closing we will experience a mantra meditation to offer support and guidance in moving forward with love, strength, and a clearer sense of self. Connecting with your inner power to manifest dreams into reality. 
We would love to have you join us! Please don't hesitate to contact us with any questions. 
Reiki Restorative Yoga; Being a Channel of Love
with Alexa Small, Laura Dunford, and Jesse Mclellan

Dates and Times:
Friday, January 19, 7 – 9pm , and Saturday, February 10, 1 – 3pm

Price: $25+HST
In this workshop, you will be introduced to the healing experience of combined Restorative Yoga and Reiki. Reiki is an energy healing modality, in which the practitioner channels energy into the receiver by means of touch or no touch, to activate the natural healing processes of the body and restore physical and emotional well-being. You will be guided through very gentle and supported yoga postures utilizing many comfy props, receive meditative guidance to deepen your experience of presence and self inquiry, while a Reiki practitioner carefully and intentionally offers you Reiki energy. Reiki energy is universal, abundant and available for everyone, we will simply create the space and intention to let this energy flow for the benefit of all. All levels experience are welcome.
Awakening Peace: a winter retreat & fresh lens on anxiety, pain & depression
with Tamara Pereira
Date and Times: Sunday January 28, 10 am – 3pm
Price: $45 + HST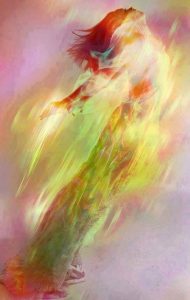 For some the myriad of intrusive thoughts, the zooming sensations of the body, the overwhelming state of anxiety can start to take over the peace in one's life. This workshop will help you navigate the roller coaster of hormones, thoughts & patterns that lead to anxiousness. Let go of worry & invite peace with real tangible tools. A comprehensive and dynamic invitation to let go of worry, anxiety & panic attacks,  through a multi- perspective approach. We will utilize  postures, breath, awareness exercises, meditation, yoga, & a little neuroscience, to reveal the hidden mysteries of the mind, body & spirit. We will concentrate on opportunities to bring in tools to manage a host of anxiety disharmonies.  Supplement, herb, diet and lifestyle exploration will also be a focus. In a safe and carefully organized space, we will learn about a multitude of ways to tame the anxious brain – body distress. You will leave refreshed, inspired and with ancient and modern wisdom to cope naturally and let go of unwanted anxiety.
Exploration includes:
Exploring postures for releasing tension, dynamic movement & awareness
Self exploration & reflection through various styles of meditation, breath & bodywork integration (self massage techniques)
Introduction to holistic medicine alternatives.  The science of the brain – gut connection.
Restorative & Yoga Nidra practice to conclude.
Registration also includes follow up with Tamara that encourages your exploration of the tools. You will also take home audio tools and herbal tea samplers.
This workshop is available to all levels, including absolute beginners.
Bring lunch, snacks, comfy clothes, journal.
Kirtan with Lana Sugarman – Winter Nourishment
Dates and Times:
Saturday, February 3, 7pm – 9pm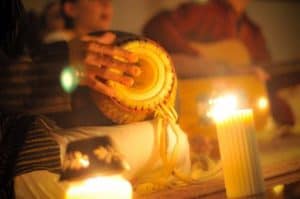 Come in for a cozy night of call and response chanting in community. Lana will lead the group through different Sanskrit mantras. With repetition, we are able to lose ourselves in the rhythm and melody of the chants, and tap into a sense of ease and joy. Much like how asana practice gets us out of our heads and into the body, kirtan gets us into our voices and our hearts with the vibrations we create.
No experience necessary. This can be an opportunity to express and use your voice, or to simply soak in the sounds.
Lana will be joined by Kevan McKenzie on percussion.
Price:
$20 in advance
ABOUT LANA:
Lana is a Canadian kirtan artist and yoga teacher currently based in Ohio. She has been leading kirtans in different communities since 2009, and has had the opportunity to sing with many great kirtanwallahs including Brenda McMorrow, Dave Stringer, Girish, David Newman, and others.
In 2013 she released her first album, Invocation, and this past spring came out with Reverence. Both albums offer all Sanskrit mantras with Lana's original melodies. She is delighted to be coming to Peterborough to share the magic of sound and Sanskrit!
Sacred Sound Journey
with Rebecca White Raven, and Kevin Guerette
Date and Time: Saturday March 10, 7:30 – 9pm
Price: $25 + HST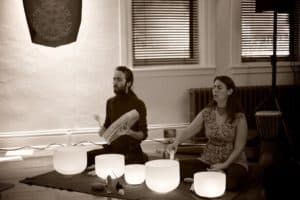 A beautiful and meditative sound experience is coming to the Peterborough community again.  Rebecca and Kevin will provide a sacred soundscape using crystal singing bowls and many other sweet sound healing instruments to help guide us into alignment and allow our inner light to shine.
The event will start with introductions and group toning of the sacred sound OM. This will help everyone become fully present and centered. We will then relax and release into an intuitive and Spirit directed soundscape of vocals, crystal and Tibetan singing bowls, frame drums, shakers and rattles, cedar flute, tingshaws, steel tongue drum, gongs and more. Experience deep relaxation and dream with the sweet sounds, adding your own voice if you feel called to. We will close with magical french chimes, like floating through a forest of fairies. It will be so lovely and I hope you join us!
The Power of the Enneagram; mystery and relationship secrets to leading a happy, engaged, life of meaning, and how to do this with others
with Tamara Pereira
Date and Time: Sunday, March 18 10 am  – 3pm
Price: $45 + HST
Imagine how life could be if you had a telescope that showed you "the real you", and showed you the "real others" in your life. Imagine you had the key to how others and yourself walk in this world, what makes you tick, happy, afraid, validated, driven, depressed, inspired? What if you had the secret to relationships.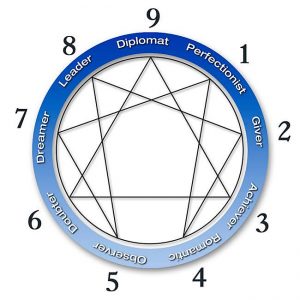 Why were we so connected in the beginning, yet our relationship is empty now?
Why can't I and my son get along?
Can't they see how this is affecting me?
Why aren't they responding to me?
The Enneagram will teach you how to get what you really want in life. Save yourself decades of life experience and dive into relationships in a life TRANSFORMATIONAL WAY.
Explore how to see through others "Eyes" in a deep way that will transform your life like you never imagined.
The key to true happiness, intimacy & engagement in life – boils down to relationships, with yourself and those in your circle of family, friends, social, work or intimates. If you knew what made everyone tick, fearful, free, engaged, turned on, turned off? If you understood their core principles and how they processed the world, better yet – if you understood how you processed the world. Let's dive into the wonderland of the Enneagram which is an archetypal framework offering deep insight into individuals, groups, and collectives. In this 4 hour Intensive – you are going to have more aha and down the rabbit hole moments than you could imagine. This is a brain teaser and a soul pleaser.
Pranayama: Window to the Infinite
Continuing Education workshop with Fraser McDonald – great for Yoga Teachers and open to all yogis!
Price: $40 +hst
This workshop is a beautiful opportunity to wake up to some of the subtler aspects of how breathing can bring us into greater harmony with the universal heart. As we open to the subtler aspects of pranayama we find there is a great power to invigorate our body and mind with clarity and also to move towards and support fulfilling meditation. This class is designed as continuing education for yoga teachers as well as an opportunity to explore and deepen for those who may not be teachers but have an established practice.
In this workshop we will breathe together, explore sequencing of breathing practices, and integrate bandhas (energy locks), as well as some basic asanas. Pranayama means both breath regulation but also prana energy expansion. This expansion happens as we come into deeper and more attentive inner listening. Sometimes if we are being too forceful with our pranayama we end up creating tension and never come to this great discovery of our infinite self. But by learning to breath with greater rest and ease, we can use pranayama as a gateway to our inner being.
REGISTRATION COMING SOON
Partner Yoga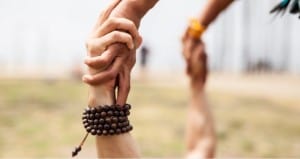 with Sasha Lambrinos
Date and Time: Saturday, February 17, 1 – 3pm

Price: $40+HST per pair
Perfect for Valentines Day, but all relationships are welcome!
Join Sasha for an afternoon of connection and discovery. Explore Yoga with a partner (friend, family member, anyone you are comfortable with physical contact), being guided through ways strengthen your relationship, connect, develop trust and communication while having fun learning partner yoga techniques. All are welcome, this is a beginner friendly workshop, all levels of experience are encouraged to attend!
Chakra Bliss Aromatherapy Restorative Yoga
with Tiina Kivinen and Angella Windrem
Dates and Time: March 2, 7 – 9pm
Price: $25 + HST

Join Tiina and Angella for a restorative style yoga class integrating a journey through the Chakras (energy centres in the physical/emotional/ energetic body), using aromatherapy essential oils to deepen and enhance the exploration. We carefully choose yoga postures and essential oils that correspond with each Chakra to carry you through a journey of self inquiry, deep rest, and healing. Essential oils have the potential to deepen your focus and enhance your awareness through the yoga experience, with the added benefit of the healing qualities of each aroma. No experience is needed, all are welcome, unless you have a sensitivity or allergy to essential oils.
Bhakti Flow; Live Music Yoga
with Fraser and Dana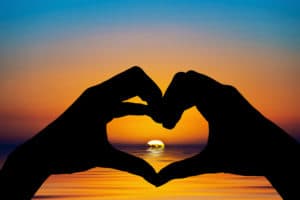 Date and Time:
Friday, March 16, 7 pm – 8:30 pm

Join Fraser and Dana for an evening of yoga while being serenaded by sweet music with yogic mantras and heart opening songs for healing and inspiration. This style of Yoga is inspired by Bhakti Yoga, the Yoga of the heart. While you relax and let go, you will be taken on a musical journey. Space is limited so register now!