See our Registered Classes for ongoing series of workshop-type classes, and our Weekly Schedule to come out to classes any day of the week!
See our cancellation policy here. 
Reiki Restorative Yoga; Being a Channel of Love
with Laura Dunford and Jesse Mclellan

Date and Time: Friday March 1, May 17, June 7, 7 – 9pm
Price: $25+HST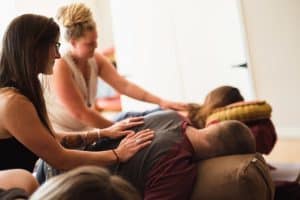 In this workshop, you will be introduced to the healing experience of combined Restorative Yoga and Reiki. Reiki is an energy healing modality, in which the practitioner channels energy into the receiver by means of touch or no touch, to activate the natural healing processes of the body and restore physical and emotional well-being. You will be guided through very gentle and supported yoga postures utilizing many comfy props, receive meditative guidance to deepen your experience of presence and self inquiry, while a Reiki practitioner carefully and intentionally offers you Reiki energy. Reiki energy is universal, abundant and available for everyone, we will simply create the space and intention to let this energy flow for the benefit of all. All levels experience are welcome.
Kundalini Yoga, Breath and Mantra
with Shantdeep
Date and Time: Friday, February 22, 7 – 9pm
Price: $25 + HST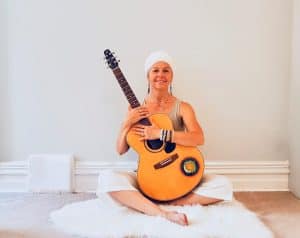 This class offers a combination of gentle kundalini yoga asanas, pranayama exercises, gong relaxation & mantra chanting to uplift and empower your mind, body & spirit.
Shantdeep is certified Level 1 Kundalini Yoga teacher and a graduate of Amrita Living Yoga. Deeply influenced by her exploration of various wisdom teachings, Shantdeep loves to share her passion for Kundalini Yoga and Mantra Yoga. Her gentle presence, and soulful chants draw participants into an experience of allowing the soul to radiate its natural joy and divinity.
Yoga for Relaxation with Hot Stones
with Heather Reed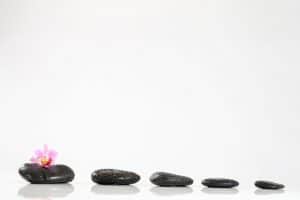 Date and Time: Saturday, March 16, and Sunday May 5,  1 – 2:30pm 
* We have a limit of 6 people per class to ensure the best experience for all! If have enough interest, we are going to add a second class for Saturday, March 16 and Sunday, May 5! 
Price: $25 + HST 
Rest, rejuvenate and restore. You will be guided into comfortable restorative postures cultivating a deep state of deep relaxation supported by bolsters, blankets and pillows. The placement and gentle massage with Hot Stones will warm the body and melt away your muscle tension and stress. You will experience a deeply nourishing sense of inner peace and will leave this class feeling calm and rested with your inner being completely nurtured.
No yoga experience required.
Heather Reed is a Registered Massage Therapist, Certified in Hot Stone Massage, Reiki Master and Certified Yoga Instructor 200 hr.
Partner Yoga Workshop
with Sasha Lambrinos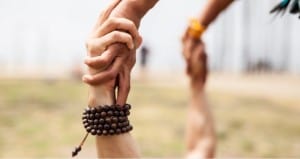 Date and Time: Saturday, February 16, 1 – 3pm
Price: $40+HST per pair
Join Sasha and Chantal for an afternoon of connection and discovery. Explore Yoga with a partner (friend, family member, anyone you are comfortable with physical contact), being guided through ways strengthen your relationship, connect, develop trust and communication while having fun learning partner yoga techniques. All are welcome, this is a beginner friendly workshop, all levels of experience are encouraged to attend!
Post Valentines Day, makes a lovely gift!
Chakra Bliss Aromatherapy Restorative Yoga
with Tiina Kivinen and Angella Windrem
Dates and Time: Fridays, March 15, May 31, and June 14, 2019, 7 – 9pm
Price: $25 + HST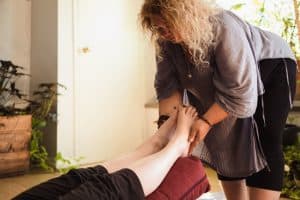 Join Tiina and Angella for a restorative style yoga class integrating a journey through the Chakras (energy centres in the physical/emotional/ energetic body), using aromatherapy essential oils to deepen and enhance the exploration. We carefully choose yoga postures and essential oils that correspond with each Chakra to carry you through a journey of self inquiry, deep rest, and healing. Essential oils have the potential to deepen your focus and enhance your awareness through the yoga experience, with the added benefit of the healing qualities of each aroma. No experience is needed, all are welcome, unless you have a sensitivity or allergy to essential oils.
Beautiful Nourishment: Ayurveda and Aromatherapy Mini Retreat
Late Winter/ Early Spring Kapha Balancing
with Tiina Kivinen and Angella Windrem
Date and Time: Saturday, March 30, 10 am – 4pm 
Price: $90 + HST (includes lunch)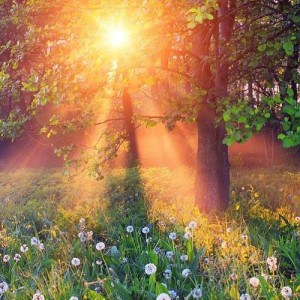 Join Tiina and Angella for a one day mini retreat to bring balance and nourishment to your body, mind and spirit. This retreat is part of our Ayurveda and Aromatherapy seasonal series.
According to Ayurveda, the sister science to Yoga, the Spring season is governed by Kapha, the constitution of Earth and Water. During Kapha season, we benefit from finding inspiration and motivation to practice, using the lighter qualities of fire and air to help balance the heaviness of Kapha.  At this time of year, as we come out of hibernation and start to see signs of Spring, we cultivate balance by adding warmth and vigour to our systems, to awaken in mind, body and spirit. When Kapha is out of balance, (and this can be for anyone, of any constitution, during Kapha season!), we may feel unmotivated, sluggish, and heavy. This mini retreat will draw upon the invigorating and warming qualities of fire and air, through Yoga practice, breathwork and meditation, aromatherapy, food, and self care practices. The day will energize and inspire, bringing forth your own inner life energy.
The day will unfold like this….
10am: Kapha Balancing Yoga Sadhana: Nourishing the body and mind with a gentle/ moderate yoga practice that brings warmth, lightness, and invigorating energy. All levels. Enhanced with Aromatherapy/ plant medicine.
12pm: Nourishing Lunch: We provide a lovely light lunch that is Kapha balancing and vegan.
12:30pm: We will spend the afternoon making beautiful self care packages, made especially for balancing Kapha. We will use quality essential oils and ingredients to craft invigorating and inspiring aromatherapy Abhyanga oil (self massage oil), bath salts, and a herbal tea blend.
2:30pm: Aromatherapy Restorative Yoga and Yoga Nidra
We will end by 4pm, after a closing circle.
*All are welcome to register, although be aware that we will be using essential oils throughout the day, so this is not recommended for anyone with sensitivity or allergy to essential oils. 
*Tiina and Angella are both experienced Yoga Teachers, and Tiina has completed Ayurvedic Yoga Teacher Training, while Angella is completing Aromatherapy certification.
Sacred Sound Journey 
with Rebecca Whiteraven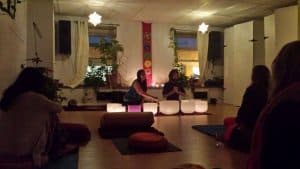 A beautiful and meditative sound experience. Rebecca will provide a sacred soundscape to help guide you into alignment and allow your inner light to shine. We have three events this Spring, each with either Crystal bowls or Gongs as the primary sound, both including other resonant instruments to enhance the journey.
Crystal Bowls – Fridays, April 19, and June 21, 7 – 8:30pm
Come bathe in the sweet sounds of crystal singing bowls and many other lovely sound healing instruments. Rebecca will gently guide you into a relaxed and grounded state and then produce sweet sounds and song to carry you into a deep meditative experience.
Gongs – Saturday, May 11 7:30 – 9pm
The gong is a multi-tonal and powerful instrument that can help you shift and transform in amazing ways! Join Rebecca with her collection of gongs for a visceral sound experience. Drop into a deep meditative state and allow the energy of sound to wash over you and through you as you release what no longer serves. Rebecca will open and close with other sweet sounds leaving you feeling refreshed and rejuvenated.
Price: $25 + HST
More about Rebecca:
rebeccawhiteraven.wordpress.com
New Moon Yoga Nidra
with Tiina Kivinen 
Date and Time: Friday May 3, 7 – 8:15pm, and Sunday June 2, 4 – 5:15pm 
Price: $25 + HST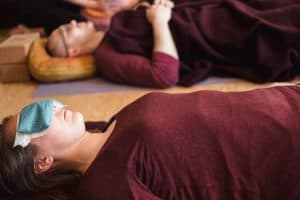 Yoga Nidra is a state of consciousness. The word 'Nidra' refers to sleep with a trace of awareness, or conscious deep relaxation. Yoga Nidra is a therapeutic trance, much like hypnosis. It is as a state of consciousness, that occurs between waking consciousness and dreaming consciousness. To enter into the Nidra state, we utilize a skillful and systemic method of complete relaxation, that has the potential to restore balance through bringing us into the parasympathetic nervous system's state of rest and digest. As well, it is in this state of deep rest, that we have the potential to affect change on a subconscious, or unconscious level. The practitioner simply rests in a comfortable and very supported position, listening to voice of the guide, and the journey unfolds. We approach the practice with the intention of deepening self inquiry, integrating life changes and insights, and using this method of skillful rest for stress reduction, and self care. Yoga Nidra has the potential to balance the over stimulation and pressure to perform and succeed in our fast paced culture, while supporting stress relief and over all health and well – being.
The New Moon is a perfect time for Yoga Nidra. As the moon wanes and the light disappears, there is a natural draw towards stillness in our beings; the healing darkness. Just as we need rest in each daily cycle, when the sun sets, we also benefit from allowing our selves to rest and take refuge during the waning and new moon in the monthly cycle, in order to reset the nervous system and prepare for a new beginning. Yoga Nidra during the New Moon answers the deep inner call of taking rest and refuge, as well as creates space for intention to emerge as we begin again.
Tiina has completed a Yoga Nidra Teacher Training, and is a certified Hypnotherapist, both practices that explore the power and potential of therapeutic trance states and relaxation for the health of your whole being.