Friends, Here at Peterborough Living Yoga, we are excited to welcome you back into our sacred space this summer! Rather than start with series of classes, we are offering a few pop up in person events through the summer, in addition to the Summer Online Gentle Flow and Restore on Tuesday nights! We plan to begin some Yoga series options with regular class times in September, as we realize you are all in the midst of your much deserved summer time, perhaps reuniting with family and friends and soaking up the summer, so it doesn't feel like the right time to begin classes with a commitment. Our soft launch is all about sweet, pop up style offerings that will take place through the upcoming summer weeks, simply register for the events of your choice, without an ongoing commitment! We are so excited to share space again in the spirit of yoga, connection, and well being. (with best practices of covid precautions in place). Here are the first few pop up events that are coming! Class sizes are limited, so be sure to register to join us!
Prana Flow and Restore Yoga~ Sweet Summer Pop up class!
with Tiina Kivinen
Date and Time: Monday July 26, 7 – 8:15pm
Price: $20 + HST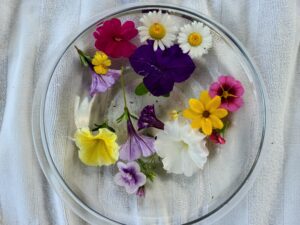 Join Tiina on Monday July 26 for this pop up Flow and Restore class! A sweet and nourishing flow, some gentle strengthening, stretching and moving with breath and into stillness and restoration. This class is part of our soft re launch after lockdown of classes this summer… register and take part in one of our first in person classes back in the studio, with limited numbers and best practices for safety. This class cultivates connection with inner wisdom, intuition, vital energy, while supporting a balanced and nourished nervous system and relaxed awareness. ~ Bring your own props if possible (yoga mat, optional cushion, block, blanket, eye covering, etc), and we have some to share if needed!
New Moon Yoga Nidra and Journaling
with Tiina Kivinen
Date and Time: Monday August 9, 7 – 8:15pm
Price: $40 + HST
*If you prefer to practice from home, there is an option for a digital version.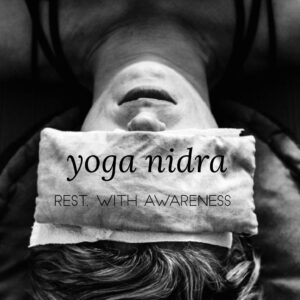 Yoga Nidra is a guided relaxation practice that supports a more relaxed and easeful state of being, health, and balance. Participants rest in a comfortable, reclined position, and listen to guidance. This practice can be amazing support for anyone, and is especially beneficial at this time, to support the nervous system, transmute fear and anxiety, and allow our beings to integrate positive changes, while the world around us is changing. Yoga Nidra is technically a state of consciousness. The word 'Nidra' refers to sleep with a trace of awareness, or conscious deep relaxation. Yoga Nidra is a therapeutic trance, much like hypnosis. It is as a state of consciousness, that occurs between waking consciousness and dreaming consciousness. To enter into the Nidra state, we utilize a skillful and systemic method of complete relaxation, that has the potential to restore balance through bringing us into the parasympathetic nervous system's state of rest and digest. As well, it is in this state of deep rest, that we have the potential to affect change on a subconscious, or unconscious level. The practitioner simply rests in a comfortable and very supported position, listening to voice of the guide, and the journey unfolds. We approach the practice with the intention of deepening self inquiry, integrating life changes and insights, and using this method of skillful rest for stress reduction and self care. The New Moon is a perfect time for Yoga Nidra. As the moon wanes and the light disappears, there is a natural draw towards stillness in our beings; the healing darkness. Just as we need rest in each daily cycle, when the sun sets, we also benefit from allowing our selves to rest and take refuge during the waning and new moon in the monthly cycle, in order to reset the nervous system and prepare for a new beginning. Yoga Nidra during the New Moon answers the deep inner call of taking rest and refuge, as well as creates space for intention to emerge as we begin again. This class will include time to journal before and after the Nidra, with prompts and guidance for your writing process. Tiina has completed a Yoga Nidra Teacher Training, has been teaching Yoga for 17 years, and is a certified Hypnotherapist, all practices that explore the power and potential of therapeutic trance states and relaxation for the health of your whole being.
Restorative Magic and Yoga Nidra
with Tiina Kivinen and Laura Dunford
Date and Time: Monday August 16, 7 – 8:30pm
Price: $45 + HST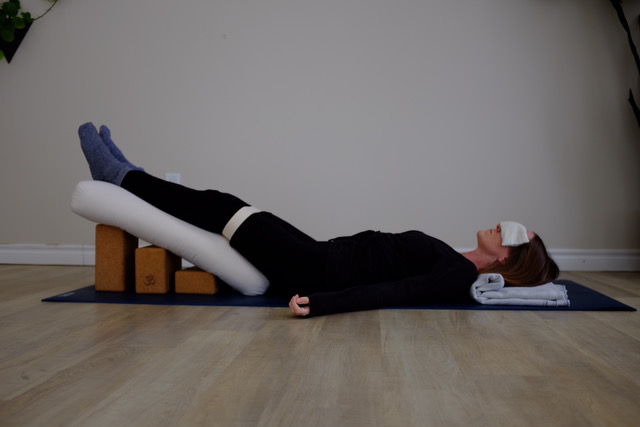 Join Tiina Kivinen and Laura Dunford for Restorative Magic and Yoga Nidra. This session will begin with Restorative Yoga, gentle, relaxation based yoga poses using plenty of props for support and ease. Restorative Yoga supports the release of tension, balancing of the nervous system, and meditative stillness. We will bring in all the delicacies of optional aromatherapy, sacred sound and poetry. Then, we journey from the stillness and ease of Restorative Yoga into a Yoga Nidra, 'transformational yogic sleep' practice. Yoga Nidra is an ancient form of regenerative healing, through which you are guided into a state of deep rest. Yoga Nidra is an effortless meditation, all you have to do is relax in a very supported and comfortable position, listening to the voice of the guide, and be carried on a inward journey into the deepest states of healing and transformation. Yoga Nidra is known for its therapeutic benefits, in supporting the nervous system, enhancing sleep, and accessing inner wisdom through the subconscious and unconscious layers of the self. Tiina Kivinen and Lauretta Dunford are both passionate and experienced Restorative Yoga guides, both certified in Yoga Nidra as well. *Covid precautions will be followed, including enhanced cleaning and physical distancing. Masks are worn when coming and going and moving about the space. Please bring your own Yoga props (mat, bolster, pillow, blanket, eye covering), however we will have some available if needed.